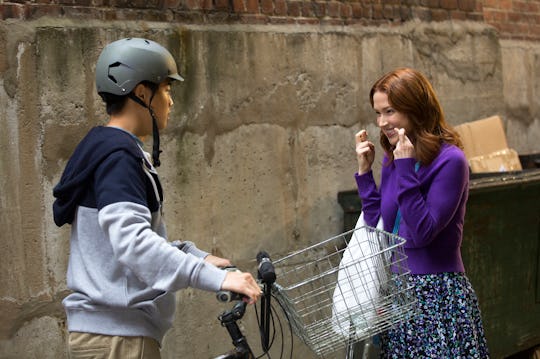 Eric Liebowitz/Netflix
Will Dong Return To 'Unbreakable Kimmy Schmidt'? He Has Unfinished Business
There were so many great reasons to love Unbreakable Kimmy Schmidt. Kimmy is innocent to a fault, Titus gives us invaluable advice and "Peeno Noir", and Jacqueline is so crazy and ridiculous that you can't help but laugh. But one of the best characters on the show is Kimmy's love interest and fellow GED student, Dong Nguyen. So, will Dong return to Unbreakable Kimmy Schmidt Season 2?
Kimmy and Dong first bonded over the fact that both of their names mean "penis" in the other's language, and although it took them a while to finally get together, it was so cute when they finally did. There was only one problem. Immigration was looking for Dong, and even though Kimmy was able to convince Dong to stay in New York, Dong suggested they get married so he wouldn't have to worry about being sent back to Vietnam.
Of course, Kimmy had to think about it and she had a lot going on at the time (trapped in the bunker, the trial, testifying, etc.) so when Dong called nine times she hadn't even noticed until it was too late. Immigration came looking for Dong so he had to marry Sonia from their GED class, meaning Dong is now officially off the market. At least he's staying in New York, though!
So, what does this mean for Dong and Kimmy's relationship? Based on all of the trailers for Season 2, it doesn't even look like Dong will be in the next season. Does that mean now that he's married he will he be MIA? That seems doubtful. Dong will probably be in less episodes this season mainly because the actor that plays him, Ki Hong Lee, is kind of busy killing it in The Maze Runner movies right now, but that doesn't mean Dong will just disappear.
For one thing, if he's staying in New York, he (and Sonia) will probably continue taking their GED class with Kimmy, which will make for awkward and probably hilarious scenes. Additionally, Dong can't stay married to Sonia. That's crazy! He belongs with Kimmy, or they should at least have the chance to see if they belong together. These two barely had a love story before Dong ended up married to someone else. I can't imagine their story is just going to end this way. There's no closure!
Thankfully season 2 of Unbreakable Kimmy Schmidt will be released on Netflix on April 15 and we'll finally get some answers. Here's to hoping the Dong/Kimmy ship finally sets sail.