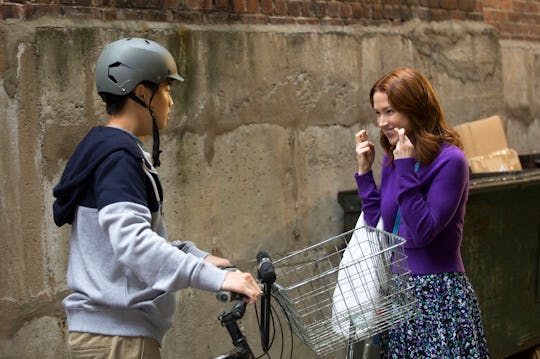 Eric Liebowitz/Netflix
Will Dong Return To 'Unbreakable Kimmy Schmidt' Season 3? Let's Hope So
After a will-they-or-won't-they romance culminating in a possible virginity loss set in the back of a police car, it looks like Dong Nguyen, Kimmy Schmidt's GED study buddy and mega-crush, is finally gone for good (or so it seems). He winds up getting deported in Season 2, but, just before he slips away forever, Kimmy throws her anxieties to the wind and has what is likely some very uncomfortable sex with him. But will Dong return to Unbreakable Kimmy Schmidt?
Although he managed to secure a seemingly stable green card marriage to fellow GED classmate Sonya, Dong and Kimmy ultimately can't avoid their mutual attraction. Most of their Season 2 romantic tension is built around trying to deny it, but Dong and Kimmy wind up running away to an abandoned hotel for a steamy night together. And fine, because it's Kimmy, "streamy romance" mostly involves raiding the vending machine, pretending to be phone operators at the abandoned front desk, and dancing alone in the empty hotel ballroom. But eventually, they do get around to trying to have sex thanks to a cameo appearance by Joshua Jackson, who uses Dawson's Creek plot lines to help them figure out whether having sex is the right choice.
An unknown latex allergy sadly tanks the endeavor when Dong tries to put on a condom, and Kimmy winds up having to call an ambulance for him. Police show up, because the abandoned hotel turns out to be a raccoon sanctuary on which Kimmy and Dong are trespassing (because of course), and the trouble they wind up getting into exposes Dong's green card marriage as a sham.
Right after Dong's departure though, Kimmy stumbles upon some accidental therapy from an alcoholic psychiatrist (played by Tina Fey!), and she seems dedicated to doing some work on herself. And she was pretty resigned to Dong's departure and accepting of the fact that she's never going to see him again, which suggests she's not going to put much fight into undoing his fate.
Plus, Kimmy has at least one other romantic interest this season, so we know that she's capable of holding onto her feelings for Dong, even while she's getting her flirt on with other boys. So it seems perfectly plausible that Dong might come back for a Season 3 surprise reunion that reignites the will-they-or-won't-they romantic tension between him and Kimmy.