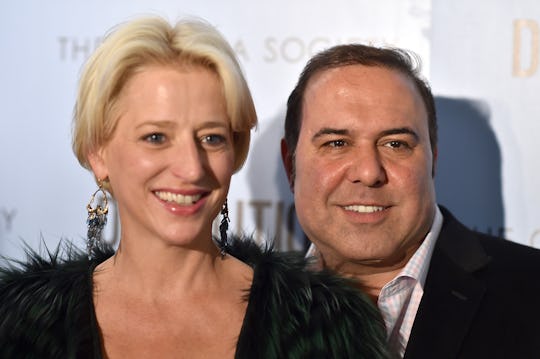 Dimitrios Kambouris/Getty Images Entertainment/Getty Images
Will Dorinda Medley & John Get Engaged? The 'Real Housewives' Star Is Still Ringless
John Mahdessian has quite possibly become one of the most controversial significant other of all Real Housewives time. He has a strong personality, bad jokes, and has been accused of talking about Dorinda Medley, and that's this season alone. Naturally, you might be wondering if Dorinda Medley and John Mahdessian get engaged before this season is through. Well, nothing has happened yet, so don't count on it.
You may remember that the Season 7 finale featured an awkward, impromptu, pseudo-proposal over a casual lunch. John started pouring out his feelings about the relationship in the middle of the restaurant and it sounded like he might pop the question. He admitted that he had brought a ring with him, but Dorinda implored him, "Don't bring it out now!"
There were plenty of obstacles for the couple last year illustrating why a proposal may not be the best idea (anticlimactic moments being the least of them). For one thing, Dorinda's daughter Hannah wasn't quite sold on John, or so it seemed throughout the season. Perhaps she wasn't ready for her mom to move onto a new relationship while they were still living together, and Hannah was still working through her grief over losing her stepdad.
Then, there was (and still is) Dorinda's crystal clear discomfort with how publicly affectionate John is. Probably not the best idea to tie yourself for life to someone whose smooches mortify you.
Finally, Dorinda simply doesn't really want or need to get married. She said in a cutaway interview during his semi-proposal:
"It's a different relationship with John because I'm not particularly looking for a husband. I'm not wanting to have children. I feel sort of emotionally secure and financially secure, so I can actually be present and be there because I choose it."
More recently, at the Season 8 premiere party, Dorinda told Bravo's The Dish that her cast mates' disapproval of John didn't really concern her or influence her opinion of him. She also managed to throw a little shade at the Housewives who criticized her relationship while failing at significantly shorter lasting ones:
"The truth of the matter is, we don't need to say anything because we've been together for four years. Four years! As we know from our cast mates, some of their relationships and marriages haven't lasted for four years...So I think that it's fair to say the longevity of our relationship speaks for itself."
So, while Dorinda and John's relationship may be secure, it doesn't seem like she has much interest in getting engaged anytime soon. The question is, will that satisfy John, who seems much more eager to lock her down in all the traditional trappings of marriage?