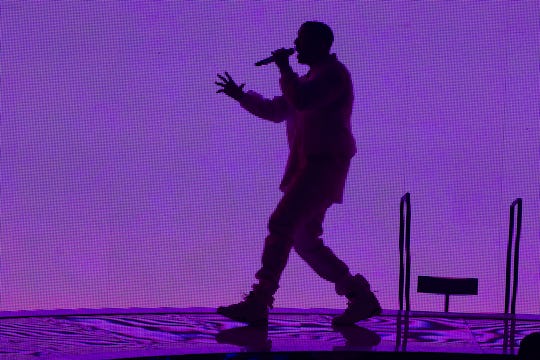 Dave Kotinsky/Getty Images Entertainment/Getty Images
Will Drake Rename His Tour? It Wouldn't Be A Surprise
With his latest album Views debuting at No. 1 on Billboard's top 200 chart, Drake will soon be heading out on his summer concert tour, and we're all super psyched to see Champagne Papi in the flesh. The Toronto-native announced his North American tour dates back in April, before Views was even released on April 29. Right now, Drake's tour is called the "Summer Sixteen Tour," but it would hardly be surprising if that tour name doesn't stick around for long. To date there have been plenty of clues that will have you questioning whether Drake will rename his summer tour before it kicks off this July or keep the "Summer Sixteen" bit as is.
Drake's Summer Sixteen Tour is not only hitting the major cities, like Los Angeles, Chicago, and New York, but smaller metropolitan regions across the United States as well, including Greensboro, Columbus, St. Paul, and Buffalo. He'll also be playing two shows in Vancouver and two in Toronto.
Frequent collaborator Future will be joining Drake on the road to make this a truly epic tour. The two previously teamed up in 2013 to co-headline the Would You Like a Tour? tour and to release a mixtape together last September titled "What A Time To Be Alive."
At the time of Summer Sixteen tour's announcement in April, Drake had already released four singles off his new record. Those included "Pop Style," "One Dance," and "Summer Sixteen." But, now the full Views album has come out and the song "Summer Sixteen" is nowhere to be found. Apparently, Drake's big summer 2016 anthem didn't make the final cut.
Though many artists drop single tracks prior to a release, it is super rare for the artist to then not include that song on the album itself. What makes it even weirder is that all the other songs he released are featured on Views. You can only buy "Summer Sixteen" on it's own, separate from Views, as a single on iTunes. Curiouser and curiouser.
Of course, Drake has performed the hit a few times in concerts (and at his album release party). He could just be holding out on putting the song on the album and waiting to release a deluxe version of Views with "Summer Sixteen" included (fingers crossed!).
This wouldn't be the first time Drake played switcheroo with names. He renamed his new album less than a week before its release date, going from calling it Views from the 6 to just Views. "The 6," of course, refers to Drake's hometown Toronto, so some fans were confused by the sudden title switch—and some Canadians were downright unhappy that the rapper was snubbing the great white north (sorry aboot that). With his summer tour around the corner, Drake isn't going to be spending a lot of time in The 6 anyway (except for a quick stopover to perform in OVO Fest on July 29).
So maybe Drake is just waiting for the opportune moment to drop his new tour's moniker or maybe he's laughing at us for all the speculating. (I don't mind — his laugh is adorable.)
Whether Drake decides to change the name or not, Summer Sixteen is most likely going to a collection of game-changing performances. Tickets went on sale April 29 but you may be able to scoop up a few for the Drake/Future tour in the cheap seats. The extravaganza kicks off July 20 in Austin, TX.
Even if he ditched the single for his album, summer '16 is sure to be the summer of Drake. And even if it isn't? You can still enjoy this Gratuitous Drake Dad-Dancing GIF.