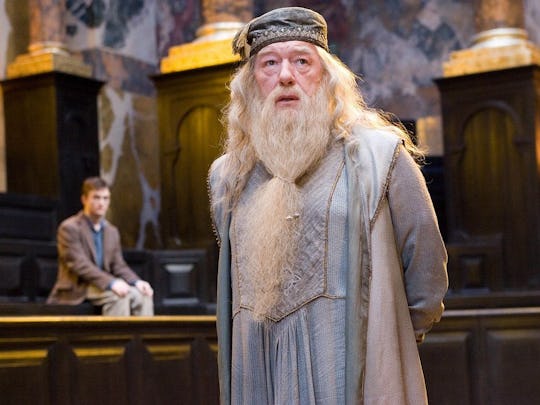 Warner Bros.
Will Dumbledore Appear In 'Fantastic Beasts & Where To Find Them'?
Sunday was a big night for Harry Potter fans around the world. A new trailer for Fantastic Beasts and Where To Find Them, the kind-of sort-of prequel to Harry Potter series, was released during the 2016 MTV Movie Awards, giving fans of the franchise something to cheer about. The trailer also lead to many questions. Who does Colin Farrell play? What are the fantastic beasts? Will Dumbledore appear in Fantastic Beasts & Where To Find Them?
Though the first quesiton can be solved with a quick IMDB search and the second by reading the book, the third quesiton regard the great Albus Dumbledore's role in the movie is not as cut and dry. On the one hand, it's impossible to imagine the wizarding world without bearded, badass headmaster. On the other hand, the movie is separate from the series, so Dumbledore isn't essential. Not to mention if you check the Fantastic Beasts & Where To Find Them IMDB page, you'll notice Albus Dumbeldore missing from the character list. (And his portrayer, Michael Gambon, is missing from the cast list as well.) Heartbreaking, I know.
But don't grab the tissues just yet. A sneak peak during the Sunday night award show has many fans thinking that a Dumbedore appearance is in the works. Or, at the very least, a nice little Easter egg. During the trailer, a mysterious voice is speaking to Eddie Redmayne's character Newt Scamander. It seems Scamander has a bad reputation in the wizard community, but there is one person who vouches for him.
"Yet one of your teachers argued strongly against your expulsion," the voice says. "I wonder what makes Albus Dumbledore so fond of you Mr. Scamander."
Boom!
Given the name drop, it would make total sense for Dumbledore to at least make a cameo in the upcoming film. And to add fuel to the rumor fire, Gambon would love to reprise his role as one of the greatest headmasters in Hogwarts' history.
"I want to be in it," he told UK publication Express in January. "They've got a Dumbledore. They'll have a young Dumbledore, won't they? But I could be his dad. They could flashback to me."
Even the ideas of seeing Gambon back in his wizard robes has fans excited.
One things for sure. If Dumbledore isn't already making an appearances, the producers better find a way to add a scene before the film hits theaters in November. Or they'll have some pretty pissed off Muggles to deal with.