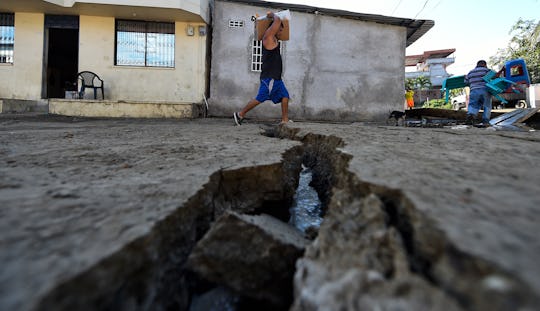 LUIS ACOSTA/AFP/Getty Images
Will Ecuador Be Hit By Aftershocks? Hundreds Have Already Hit The Country
On Saturday, the South American coastal nation of Ecuador was rocked by a magnitude-7.8 earthquake that has killed at least 350 people and left more than 2,500 injured. The earthquake's epicenter was located approximately 110 miles from Ecuador's capitol city, Quito. As thousands of rescue workers and volunteers have mobilized to find survivors through the rubble and debris, it's worth noting whether Ecuador will be hit by aftershocks. Unfortunately, hundreds of aftershocks have already occurred across the nation, according to Ecuador's Geophysics Institute.
The initial earthquake occurred at just before 7 p.m. local time on Saturday. Aftershocks could be felt immediately after, with as many as 230 aftershocks registering since the initial magnitude-7.8 earthquake. These aftershocks have had magnitudes ranging from 3.5 to as much as 6.1, occurring at shallow depths just off the Pacific coast of the Andean country home to some 16 million people. Geophysicists also identified a magnitude-4.8 "pre-cursor" earthquake that took place 11 minutes before the magnitude-7.8 quake on Saturday. The number and intensity of the aftershocks are expected to decrease as time progresses, however it's possible that aftershocks can be felt for as many as 10 days following a major earthquake. Ecuadorian President Rafael Correa has issued a state of emergency.
Ecuador's Vice President Jorge Glas said that Saturday's quake was "the strongest quake we have faced in decades," according to ABC News. Glas also referenced the 1979 Tumaco earthquake, a magnitude-8.2 seismic event that left 500 to 600 dead and caused $8 million in damage. The 1979 Tumaco earthquake also triggered a major tsunami, which nearly destroyed Charco, a fishing village in Columbia, and completely wiped out all the houses in the seaside town of San Juan de la Costa in Chile. The strongest earthquake in Ecuador's history registered at a magnitude of 8.8 in January 1906, leaving more than 1,000 people dead.
International aid efforts have come in from a number of countries, including the United States, Mexico, Spain, and Chile. The Ecuadorian Red Cross has dispatched as many as 800 staff and volunteers to help search for survivors and clear debris. Rescuers are also using dogs that have been specially trained to search for survivors, as seen below:
As search and rescue efforts continue, the Spanish Red Cross estimates that as many as 100,000 people may need assistance. Even though it is still early, Pres. Correa has estimated that Saturday's earthquake will require billions of dollars in reconstruction costs.