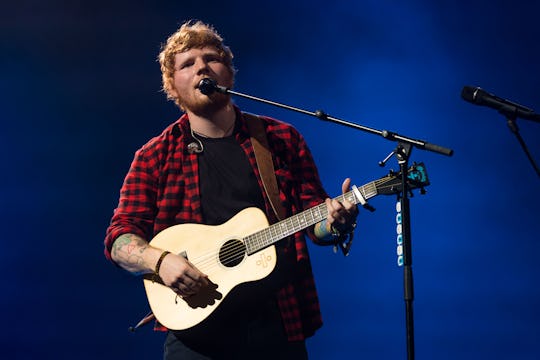 Ian Gavan/Getty Images Entertainment/Getty Images
Ed Sheeran Could Be Sticking Around Westeros, 'GoT' Fans
Ed Sheeran made his guest appearance on Game of Thrones during the Season 7 premiere and there were mixed reactions. While some fans loved it, others hated it. Regardless, this may not be the last time Sheeran's spotted in Westeros. So will Ed Sheeran return to Game of Thrones Season 7? It certainly seems plausible.
During the episode, Sheeran appeared as a Lannister soldier. Arya stumbled upon the soldiers when she heard Sheeran singing and stopped to join them as they ate and drank wine. Arya had just finished killing off the Freys and was now headed towards King's Landing so she could kill Cersei, crossing another name off her list. It seems like Arya planned to stay with the group and if that's the case it would make sense that Sheeran would be in at least one more episode.
It'd be strange if one Lannister soldier suddenly just disappeared from the group, especially if it was the singer that caught Arya's attention in the first place. However, it's also possible the show just jumps forward to after Arya departs from them.
Though it was cool to see Sheeran in Westeros, especially since Maisie Williams (who plays Arya) is a big fan, it's understandable why many fans didn't like it. Seeing Sheeran in the world of Game of Thrones was jarring. It didn't feel like there was some new, random character — it clearly felt like Sheeran was making a cameo in the show, reminding fans that this was a fictional world and your favorite pop stars could now drop in at any moment.
Hopefully Sheeran's cameo was a one and done deal, but I wouldn't be surprised if he returned for one more episode. Someone who definitely seems set to return in the second episode of the season is Arya's direwolf, Nymeria. The preview for the upcoming episode seemingly shows Arya coming face-to-face with her long lost direwolf, though it could just be a tease and GoT is actually playing a (cruel) trick on fans. Still, fans can't help but be excited at the possible reunion.
Arya hasn't seen Nymeria since Season 1. After Nymeria attacked Joffrey, Arya smartly sent Nymeria away, knowing there'd be consequences. In Nymeria's place, Ned had to execute Sansa's direwolf, Lady, instead. Now it seems Nymeria has returned and if the book predictions are to be believed, she'll be arriving with a whole squad of direwolves as well. Fans will find out soon enough how this all plays out.