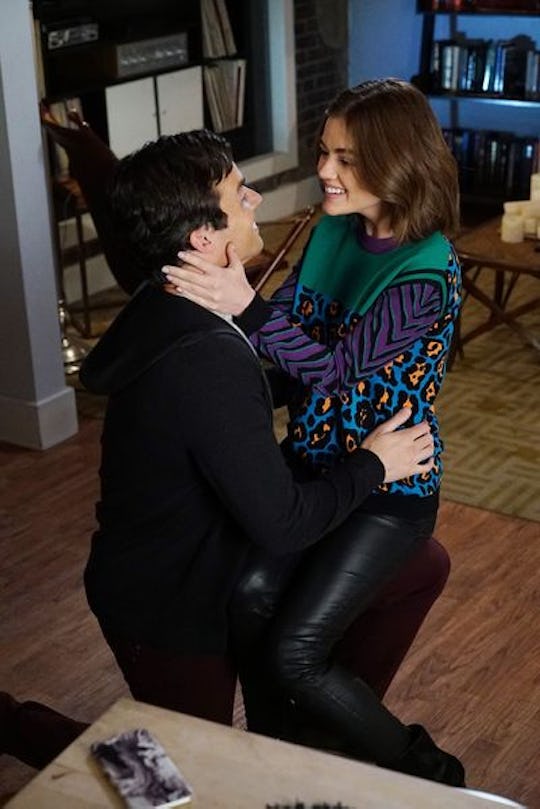 Eric McCandless/Freeform
Will Ezria Break Up On 'Pretty Little Liars'? Nicole May Come Between Them
In the Season 7A finale of Pretty Little Liars, couples were brought together and broken apart. Toby left Rosewood with Yvonne (though they didn't make it far), Emily and Alison kissed, Hanna and Caleb hooked up (finally), and Ezra's long lost girlfriend, Nicole, has been found. Will Nicole's return mean a break up for Ezria on Pretty Little Liars? Based on the way Ezra embraced Nicole when she was freed and Aria's reaction it seems highly likely that Ezria will be on the rocks when Pretty Little Liars returns in April. However, with only 10 episodes left in the entire series will Ezria break up for good?
From the very beginning Aria and Ezra's relationship has been up and down. They first hooked up in the bathroom of a bar before they discovered Ezra was Aria's new English teacher. Thus began their secret and tumultuous relationship, until they were finally able to go public with their relationship, not that that made things any easy. Ezra had a secret book that he was working on about the Liars and it turned out he knew a lot more about Aria than he led on. Still she forgave him, but they ended up apart once again and then after the five year time jump the two found each other once again and are now engaged. What a whirlwind.
Most fans believes Ezria is endgame, meaning they'll end up together when the show is over, but are they? With the return of Nicole and the earlier return of Aria's ex, Jason, maybe Ezra and Aria aren't meant to be after all. There's been plenty of fans who have issue with the fact that Ezra was Aria's teacher when they first began dating and in the books this relationship definitely didn't last as long as it does on the show. Perhaps Ezria really wasn't built to last and now that the show is coming to a close we'll see Ezra and Aria part ways for good this time.
A lot of fans will be devastated if this is the case, while others will rejoice. Either way we'll have to wait until April to see what's in store for Ezria and if they'll really make it down the aisle.