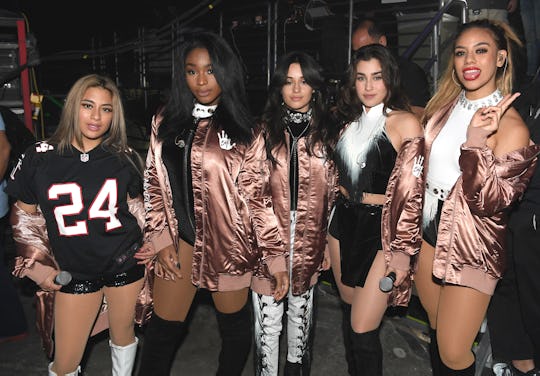 Paras Griffin/Getty Images Entertainment/Getty Images
Will Fifth Harmony Stay Together? Camila Cabello's Departure Has Fans Acting Worried
It's a sad day for Fifth Harmony fans. The group just lost one of their harmonies, which reminds me all too well of when Ginger Spice left the Spice Girls. Although, there wasn't as much social media back then, we can now see fans' reactions to the news in real time. Many Harmonizers are giving Camila Cabello the cold shoulder with the snake emoji, spamming her Instagram photo comments with the green serpent. Others are more afraid than upset, worrying about the group's future. With Camila Cabello gone, will Fifth Harmony stay together, or disband?
Late Sunday night, Fifth Harmony confirmed that the girl group will continue without Cabello on Instagram. "...we are excited to announce that we will be moving forward with the four of us - Ally Brooke, Normani Kordei, Dinah Jane and Lauren Jauregui for our fans." Phew. Hopefully songs like "Work From Home" and "All In My Head" will still come from the four remaining Harmonizers.
The situation is a shock to me, but I'm sure long-time fans probably saw the entire situation coming. Break-up rumors and "reports of infighting and feuding" have been swirling around the group for awhile, and this isn't the first time Cabello has turned Fifth Harmony into a quartet. In a Missouri concert, Cabello left the group on stage mid-performance as a result of anxiety. And just a few weeks after the incident, Fifth Harmony canceled half of their European tour without explanation.
Cabello gave Harmonizers a big clue that she would be leaving just a few hours before Fifth Harmony made a statement. She captioned a photo of her looking down and walking away with "I'll only have you if you're sweeter than my solitude." That caption seems like her only message to the girls since her representative was allegedly the one to deliver the bad news to the rest of Fifth Harmony.
Cabello has already experimented with the solo route a couple of times. This year she has released songs "Power In Me" and a "Bad Things" collab with Machine Gun Kelly. Only time will tell if the singer's departure will be "worth it" or not, but even if the singer comes out on top as the next Beyoncé, there's no changing the fact that FH fans are heartbroken.