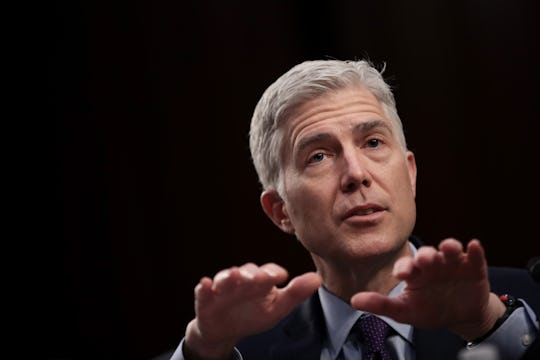 Drew Angerer/Getty Images News/Getty Images
Will Filibustering Neil Gorsuch Actually Work?
After remaining on the back burner for a few weeks, the "will they or won't they?" drama over Supreme Court nominee Neil Gorsuch has returned full heat. The question at hand, of course, is whether Democrats in the Senate will delay or somehow prevent the confirmation of President Donald Trump's pick. But will filibustering Neil Gorsuch work? While the outcome is uncertain, Democrats have pledged to try.
Gorsuch was nominated by Trump in late January, and talk about a possible Senate filibuster immediately followed. At root, the controversy about Gorsuch is less about Gorsuch himself than about Merrick Garland, President Obama's Supreme Court pick after the unexpected death of late Justice Antonin Scalia in 2016. In a distinct break with precedent, Republicans refused to hold a hearing over Merrick's nomination, arguing that a president in his last year of office shouldn't fill an empty Supreme Court seat — despite the fact that nominating judges for empty Supreme Court seats is specified in the Constitution as a sitting president's duty.
According to U.S. News and World Report, "nearly all" of the Democrats on the Senate Judiciary Committee brought up Garland's stolen appointment when hearings over Gorsuch's nomination began last week. This issue was perhaps put most starkly by Neal Katyal, a solicitor general under the Obama administration, who said during the hearing that "if Merrick Garland had been confirmed and another [Supreme Court] vacancy had opened up, Judge Gorsuch would be sailing through this body [the judiciary committee]."
It seems likely that Democrats will indeed filibuster in the Senate, meaning that they'll demand a three-fifths majority vote rather than a simple majority. Senate Minority Leader Chuck Schumer has said he will filibuster, according to multiple outlets, and according to NBC News, "at least" 19 Democrats have publicly opposed Gorsuch's nomination.
For now, the Senate Judiciary Committee has delayed the hearings, meaning that the Senate's vote will likely happen next week, rather than this week as originally planned. A filibuster is probably right around the corner — but will it work?
If they face a filibuster, the Republicans have a way around it: They can change the rules forever so that from now on, Supreme Court nominees can't be filibustered. This rules-change would apply to all future nominees, not just Gorsuch. Many are referring to this, hyperbolically, as "the nuclear option." Speaking this week on MSNBC's Morning Joe, Delaware Sen. Chris Coons called the likelihood of the nuclear option a "tragic" outcome of a Supreme Court nomination process that has become deeply politicized. Senators on both sides of the aisle, according to Coons, are "concerned about where we're headed."
The history of Merrick Garland's missed hearings, though, isn't the only consideration in blocking a Merrick confirmation. At present, Russian meddling in the 2016 U.S. election is being investigated by the House Intelligence Committee, the Senate Intelligence Committee, and the Federal Bureau of Investigation. In an interview with MSNBC's Rachel Maddow on Friday, Schumer said a president who is under investigation should not be making an appointment until either being charged or being cleared, saying,
You can bet if the shoe were on the other foot and a Democratic president was under investigation by the FBI, the Republicans would be howling at the moon about filling a Supreme Court seat in such circumstances... let's see where these investigations lead, because to have a president under investigation appoint a lifetime appointment? That's wrong.
Given these circumstances, it's safe to assume that drama over the Gorsuch nomination will continue to play out in the coming days and weeks.