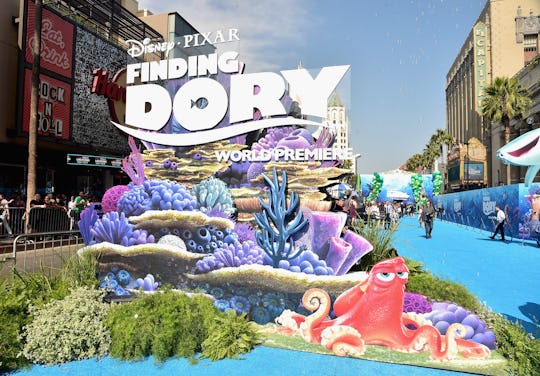 Alberto E. Rodriguez/Getty Images Entertainment/Getty Images
Will 'Finding Dory' Have A Sequel? Hank The Octopus Could Have His Own Movie
When Pixar released Finding Nemo in 2003, it quickly became the highest-grossing animated film of all time. It's no surprise that 13 years later, its sequel Finding Dory smashed all previous box-office records during its debut weekend. Pixar clearly has a good thing going with this cast of undersea characters. Given the success of these two films, will Pixar try its magic formula a third time? Will Finding Dory have a sequel? Pixar isn't ruling anything out.
According to Deadline, Finding Dory was incredibly successful overseas as well, taking in $132.6 million over the weekend in the United States and abroad. Part of the film's success is the nostalgia it has for so many older viewers. Thirteen years ago when Finding Nemo debuted, many of the people who are now young parents were children or teenagers themselves. That lapse in time has been an advantage for Pixar, according to Variety; it's drawn in an older audience of Nemo-lovers and a younger audience of new fans. Pixar isn't the only studio that's been banking on that nostalgia factor for box-office success. Last year's Jurassic World had been the biggest June film debut of all time until Finding Dory came along. The producers of that film also wanted to draw in long-time fans of the original classic: Jurassic Park. It worked then, and, for Pixar, it's working now.
When it comes to animated films, sequels and trilogies are par for the course. Many of them have even been more successful than their predecessors (like Finding Dory has). In fact, the second highest-grossing animated film of all time was the third in a trilogy. Shrek the Third grossed $121.6 million when it was released in 2007, according to the Independent. Surprisingly, the third and fourth highest grossing animated films are also follow-ups. Minions raked in $115.7 million and Toy Story 3 made $110.3 million. Why? It's hard to say. Part of it must be that the quality of the film and the cast of characters are known quantities. It's fun to see them again in a different situation. Plus, anyone who has spent time with little kids know that they love repetition. The same stories, the same voices, the same faces are comforting and thrilling at the same time.
While sequels typically have been brushed aside as inferior versions of the original, Pixar especially has been adept at following up smash-hits with even better films. It's a hard act to follow, but especially with the Toy Story series, the characters got more complex, the jokes got funnier, and the animation got better. Now that sequels are sweeping box office records, there's a financial incentive to rely on tried-and-true titles, too.
According to Screenrant.com, Pixar has a number of sequels lined up for the near future. Cars 3, Toy Story 4, and the Incredibles 2 will all be coming to theaters in the next three years. So far, Pixar has managed to write continued storylines that don't feel stale or obvious. Like with Finding Dory, Pixar writers are finding new avenues and new characters to explore within an established world rather than returning to the same plot.
That said, so much of what made Finding Dory a success with fans is its coherence and consistency with the original, according to Variety. The kiss of death for sequels, it seems, is getting a new director and production team, because when the film changes hands it somehow loses that original flavor. Even with a 13-year gap, Finding Nemo director Andrew Stanton returned for Finding Dory, ensuring that it was of the same caliber as the original.
Screenrant.com also reported that Pixar hasn't given any hints as to whether another in the Finding Nemo/Dory series is in the cards. But, it also hasn't said it definitely wouldn't make another under-the-sea movie. Time will tell, but if Pixar does, let's hope it learns from Dory's success and keep Stanton and his team in charge. If it's looking for suggestions, Finding Hank would be a welcome addition to the saga.