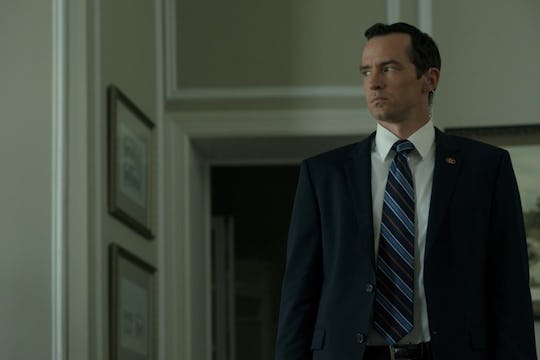 Nathaniel Bell/Netflix
Will Frank & Meechum Hook Up On Season 4 Of 'House Of Cards'? That Bedroom Scene May A Huge Hint
It's been a whole season since Frank, Claire, and Meechum's politically groundbreaking (on a television drama, at least) implied male-male-female threesome, which begs the question: are Frank Underwood and Meechum going to hook up on Season 4 of House of Cards? The Underwoods and their trusty bodyguard engaged in some three-way kissing and heavy petting after a particularly stressful day (and wine-fueled night) back in Season 2, and, the way some folks read the episode, the scene's focus on Frank and Meechum make it seem as though Claire was simply signing off on a hookup between the two men rather than participating herself. Either way, to have a fictional male presidential hopeful's fluid sexuality depicted on a scripted American political drama was a huge deal, and proof positive that this is definitely not The West Wing.
Since that late Season 2 episode, however, Frank and Claire have moved into The White House, much to the detriment of their once seemingly rock-solid marriage. Claire has, in fact, abandoned Frank on the campaign trail for his reelection, to the President's great distress. Luckily, his favorite Secret Service security detail is just outside his bedroom door, ready to be summoned at a moment's notice. In the Season 4 premiere, we see Frank and Meechum discussing the details of Claire's unceremonious exit from the campaign trail. After Meechum dutifully reports everything he knows, Frank invites him to stay in the residence bedroom and keep him company.
"Aren't you a cutie?" Frank absently quotes himself after Meechum turns off television coverage of the campaign trail for him. Meechum obediently sits in silence while Frank works, coyly watching his former lover. (Or are they still lovers?) Frank eventually falls asleep and Meechum accidentally wakes him from a nightmare while trying to take off his glasses. Startled, Frank dismisses him, but Meechum offers to stay the night ... if Frank would like.
Frank says he'd rather be alone, and Meechum respectfully exits. But the tension between the two is thick — affectionate and caring, if not strictly sexual. With Frank's marriage on the rocks, and Claire's abandonment weighing on his loneliness, it seems like Meechum's proximity (and interest) might be just the sexual comfort Frank needs this season. Obviously it's anyone's guess what will happen, but if the bedroom scene is any indication of what's to come this season, it's pretty fair to speculate that the air between the two was thick with foreboding.