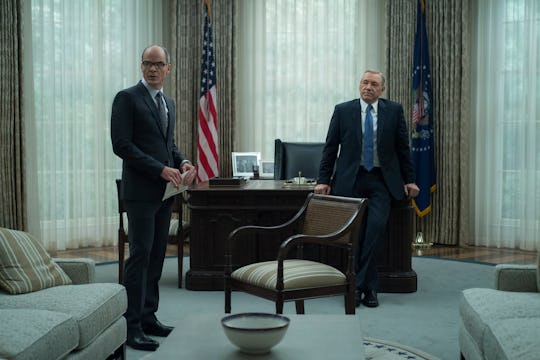 David Giesbrecht/Netflix
Will Frank Underwood Be President In 'House Of Cards' Season 5? It Won't Be An Easy Battle
(Spoilers for those that have not finished Season 4 of House of Cards.) Despite how bumpy Season 4 was for House of Cards President Frank Underwood, he somehow managed to come out on top. It wasn't easy, but Mr. President started out at such a low point from Season 3's epic departure of Claire Underwood that Frank really had no place to go but up. But, because this is House of Cards, Season 4 was no cakewalk. He faced obstacles, some greater than any season before, but they weren't things that he couldn't overcome without the help of his new running mate, Claire. But, after saying all of that, I wonder if Frank can be President in House of Cards Season 5, or if the writers will try to mix things up by knocking him out of the White House.
Frank Underwood's presidential campaign hit a few roadblocks during Season 4. It all started when Claire decided she didn't want to help Frank with his political career any longer. She basically kept herself hostage in Texas while planning her next move — although she eventually went back to the White House on a few conditions. When Claire plotted against Frank with the KKK billboard, I thought that was going to be his demise. Not only was Claire not by his side, but she was against him. But, as it turns out, that was Claire's way of gaining access to the VP role, which she later earned in the season.
Then, Will Conway entered the scene and Frank finally met his match. A threatening KKK billboard, a resolute First Lady, an assassination attempt, and multiple murders haven't stopped Frank Underwood from being President, but the Governor from New York might.
In the future season of House of Cards, Frank is going to have to prepare for war. Not against the terrorist organization that beheaded the Miller father — although I'm sure he'll use that to win the American people over — but against Conway. Will Conway is everything Frank Underwood is not. He's younger, cooler (sorry, but it's true), and has ideas that people are interested in. He takes SELFIES WITH SUPPORTERS. Does Frank even know what a front-facing camera is?
Then again, does the President of our fictional United States need to know how to access the new geotags on Snapchat?
If Frank wants to be President in Season 5, he's going to need to pull out all the stops. He's going to need to access every last inch of the deepest, darkest Frank Underwood crevices and scoop out whatever evil he still has left. Conway is smart — he probably won't be easy to take down — but this isn't Frank's first rodeo.