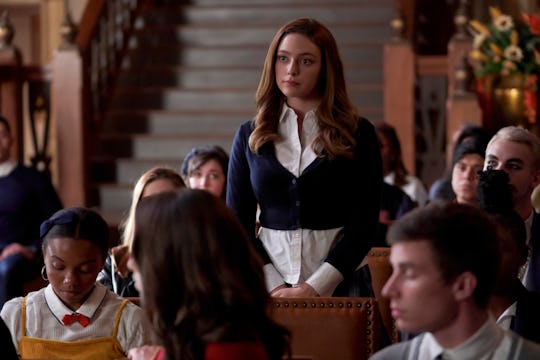 Bob Mahoney/The CW
Fans Are Hoping To See Freya Mikaelson Return On CW's 'Legacies'
The Vampire Diaries and The Originals may have ended, but the Mikaelson family story continues on the CW's spin-off series, Legacies. The series follows Klaus and Hayley's daughter, Hope Mikaelson, who is now orphaned, boarding at a school for supernatural kids. Hope has very little family left, but her aunts were still alive when fans last saw them on The Originals. So many are wondering: Will Freya Mikaelson be on Legacies?
As much as I'd love to see an auntie reunion, unfortunately, there's no indication that Freya will be on Legacies anytime soon. According to Entertainment Weekly, the actress that plays Freya, Riley Voelkel, is moving on to a brand new series. Voelkel landed a recurring role on the CW's upcoming series, Roswell, New Mexico, which comes from The Originals writer Carina Adly MacKenzie and will be produced by TVD franchise runner, Julie Plec. The new show is based on the Roswell High book series, and Voelkel is set to play the role of Cameron. According to EW, she will be joined by a couple of her Originals co-stars, including Nathan Parsons and Michael Trevino. However, for fans who want to see Voelkel back in her witchy role as Freya, there is still a glimmer of hope.
In an interview with Variety, Plec — who is also the creator and showrunner of Legacies — said that she is completely open to the idea of a Mikaelson family reunion. "What I like to say, and I mean it wholeheartedly, is that the door is always open. If anybody wants to come, I will find a way to make that work," said Plec. "I would love to see Vincent come teach some classes, or Auntie Freya show up for the parent-teacher weekend — all that stuff is stuff I would love to see so it's really just a matter of, at what point do these guys feel like paying homage to these characters and revisiting a character that they've already put to bed. That might take some time, but maybe we'll see them eventually."
The last time fans saw Freya Mikaelson, she was moving on with her life, in hopes of making a family with her werewolf wife, Keelin and witch bestie, Vincent. Plec told TV Insider that after all of Freya's suffering, she wanted her to have a happy ending. "We really wanted to end with the idea that the Mikaelson dynasty would live on in its own untraditional and beautiful way, and that Freya, the one who really sacrificed so much — builds a family of her own as they bring peace to New Orleans and live their lives together," said the show runner. "We also wanted Vincent, who worked so hard to protect everyone else in the name of his love for his city, and who also lost a love and a baby, to get a second chance at that life that he had missed out on. It all really felt right."
For now, Plec seems to be keeping the Legacies story line focused on Hope (Danielle Rose Russell) and her high school experiences at The Salvatore School for the Young and Gifted. While other Mikaelsons aren't scheduled to make any appearances soon, fans can enjoy revisiting the other returning characters from the TVD franchise. Alaric Saltzman (Matt Davis) and his twin daughters, Lizzie (Jenny Boyd) and Josie (Kaylee Bryant) are joining Hope at the school, and Matt Donovan (Zach Roerig) is returning as the Sheriff of Mystic Falls. Jeremy Gilbert (Steve McQueen) is also set to return as a supernatural hunter in the third episode of the season.
Considering the fact that Plec is the driving force behind The Originals, Roswell and Legacies, it could be easy enough for her to have Voelkel pop on as Auntie Freya whenever she wants. So it's not out of the question for fans to see a Mikaelson reunion somewhere down the line.
New episodes of Legacies air on Thursdays at 9 p.m. ET on The CW