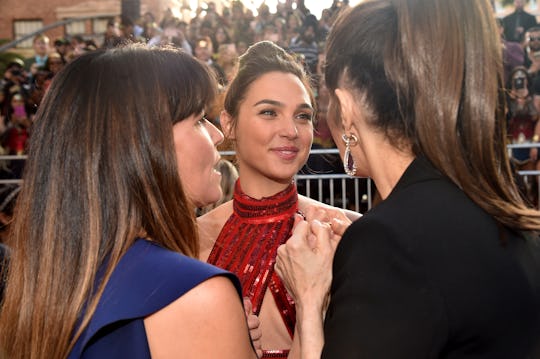 Alberto E. Rodriguez/Getty Images Entertainment/Getty Images
Will Gal Gadot Get More Money For The 'Wonder Woman' Sequel?
As glamorous as being a celebrity may seem, Hollywood isn't all glitter and glitz. Numerous actresses have spoken out against the difference in the wages they receive versus those of their male costars, and that's just the beginning. As it turns out, even female movie stars aren't always treated as equals, and that's not cool; From Jennifer Lawrence, to the ladies of The Big Bang Theory, female actresses everywhere aren't getting the paychecks they deserve. Now, new reports claim that the world's real-life Wonder Woman is getting ripped. So, will Gal Gadot get paid more for the Wonder Woman sequel? The fact that that's even a question just shows how far society has to go before it reaches actual equality.
According to multiple sources, Gadot only received $300,000 for starring in the blockbuster film that earned over $100 million just over opening weekend. And while you might have seen a viral post floating around that claimed Gadot's earning paled in comparison to another superhero star, Henry Cavill who starred in Man of Steel, those numbers aren't correct. As The Daily Dot reports, Cavill's $14 million pay check also included box office bonuses, a number not reported in regards to Gadot's salary. However, the fact that Gadot is now basically a household name, and Wonder Woman continues to crush box office records remains. So, can Gadot negotiate more for a Wonder Woman sequel, or snag a bit more cash like Cavill did, after the fact?
Gadot's $300,000 salary was determined back in 2014, when "she signed on for three movies with Warner Bros.—Batman v Superman,Wonder Woman, and November's Justice League—at a rate of $300,000 per film," according to Glamour. Of course, no production company could have anticipated such a stellar box office performance Wonder Woman would receive, but the number still seems unfortunately low.
Luckily, Gadot could still get a box office bonus for her work in Wonder Woman, seeing as how well the movie has already done. Additionally, Gadot could definitely negotiate a higher salary for the next Wonder Woman film, although the actress has yet to speak out on the matter.
Nevertheless, Gadot's full worth will hopefully be realized when future salaries are discussed. Clearly, she was the perfect choice for Wonder Woman, and as she continues to inspire people everywhere, studio executives should recognize what an impact she has had on the superhero universe.
While $300,000 might seem like a lot of money to us mere mortals, there is absolutely nothing average about Gadot's performance in Wonder Woman, and that should count for something.