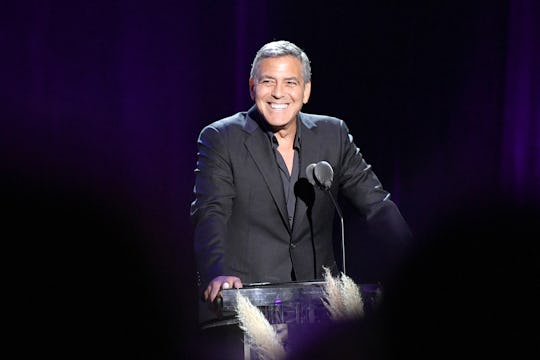 Mike Windle/Getty Images Entertainment/Getty Images
Will George Clooney Keep Working With Twins?
It looks like someone's in for a major life change! Now that he's expecting twins, will George Clooney keep working? One baby is hard enough to keep up with, let alone two. And let's face it, at 55, he's no spring chicken. Plenty of people expect to maintain their careers after they start a family, but once that baby's no longer an abstract, and they see that sweet little face (or faces, in Clooney's case), leaving the house is just unthinkable. Some people are wondering if Amal Clooney will keep her job, but what about Daddy? Will he quit work to stay home with his children? He's had some professional accomplishments, of course, but everyone knows that raising kids is the most noble and rewarding job of all.
Clooney is perhaps best known for his recurring role as Booker on Roseanne, or perhaps his turn as Devlin, the head of the OSS in Spy Kids, who went on to become the President of the United States of America in Spy Kids 3-D: Game Over. Men truly can accomplish anything! Lately, though, he's been concentrating on his humanitarian work in Syria and Sudan. But surely his wife will worry if he continues to travel to dangerous places now that he's about to become a father, so it's probably best that he stay home.
While George is busy decorating the nursery, learning how to make his own baby food, and researching vaccines, his wife, Amal, will be busy bringing home the bacon. The Lebonese-British barrister, who was educated at Oxford University and New York University School of Law, is a co-author of The Special Tribunal for Lebanon: Law and Practice, and is currently employed at the British firm Doughty Street Chambers, specializing in international law and human rights. She also serves as a visiting professor and senior fellow at Columbia Law School's Human Rights Institute, and is president and co-founder of the Clooney Foundation for Justice. She's been known to dine with her former employer, Supreme Court Justice Sonia Sotomayor, and has an estimated net worth of $10 million. Wow, George, what a catch!
Clearly, George doesn't need to work, so it shouldn't be too tough for him to give up caffeine, because he obviously doesn't want such a harmful toxin around his baby. But that doesn't mean he should just sit around on the couch; He'll have to work out to get rid of all the baby weight dads gain. He can just fit it in while the babies are napping. Sure, he could hire a nanny, but what kind of dad lets someone else raise his kids? Fatherhood is the highest calling, and blowing that off for some silly movie seems absurd. Besides, who's going to hire an actor his age? He's already starting to show visible crow's feet. He had his fun, but now it's time for him to do what nature intended: take care of his family.