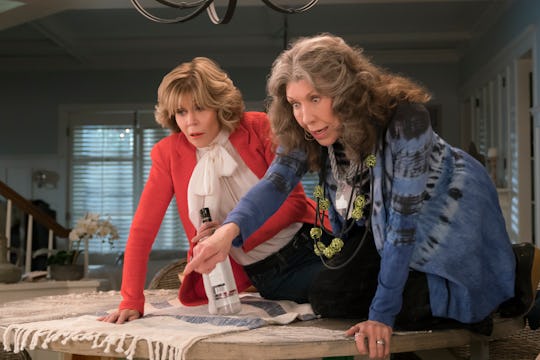 Melissa Moseley/Netflix
Why No One Should Be Worried About A 'Grace And Frankie' Cancelation
Anyone who has even watched just one episode of Netflix's Grace and Frankie knows what a true treasure the series really is. Jane Fonda and Lily Tomlin have proven to be comedy gold together, making all four seasons a pure joy to watch. But could Season 4 be the last we see of them? Will Grace and Frankie return for Season 5? Given how Season 4 ended — with their beach condo getting sold just as they were about to move back in after being in a retirement home — I can't imagine that this is the end of their story. I mean, what a depressing note that would be to go out on, am I right?
As of now, the popular comedy series has yet to officially picked up for another season. However, before we all start collectively panicking and taking to the streets in protest, let's be sure to keep a few things in mind. This isn't necessarily a sign that Grace and Frankie is doomed. Yes, it's true that some shows do get renewed for more seasons prior to the latest confirmed season coming out. Remember when Orange Is The New Black got renewed for three additional seasons ahead of the show's Season 4 release? That was pretty awesome and is a nice way to feel assured about a show's future. But alas, this is not the case in regards to Grace and Frankie Season 5. However, like I said, that doesn't mean a fifth season renewal is out of the question.
Let's not forget that Grace and Frankie wasn't renewed for a fourth season until a couple of weeks after Season 3 came out. Perhaps the same thing will happen in regards to Season 5. It's possible Netflix is just giving the show a little to see how viewers respond to the latest season before officially green-lighting it for more. So my advice to you is to get as many of your friends and loved ones to watch the show. After all, the better a show does in ratings, the higher a chance there is of it coming back in the future.
Though, honestly, everyone you know should already be watching this series because it's downright hilarious and something that everyone can enjoy. Fonda and Tomlin have undeniable chemistry together. Whether they're arguing with each other, running their own business, or figuring out their love lives (because yes — *gasp* — older women are sexual beings too), their on-screen dynamic never fails to entertain.
And in real life, it doesn't seem to be much different. If you've watched even one press interview with Fonda and Tomlin, you can tell they're just as close off-camera as well, which makes the show even that much better knowing that they're having a blast with each other on set. So why would the world let a comedy gem like this go to waste when there's still so much story to be told?
For instance, will Grace and Frankie get their beach house back? Do Grace and Nick work things out? Are there any repercussions from escaping the retirement home? Do they ever perform any heists with Sheree ever again? Because I'd honestly watch a spin-off series based solely on that. I need these questions answered. I've already lost one great TV show to the chopping block (RIP Happy Endings forever and ever), and I refuse to do it again.
So don't worry, I'm fully confident an announcement about Season 5 is just around the corner. In the meantime, we just have to be patient.
Check out Romper's new video series, Romper's Doula Diaries:
Watch full episodes of Romper's Doula Diaries on Facebook Watch.