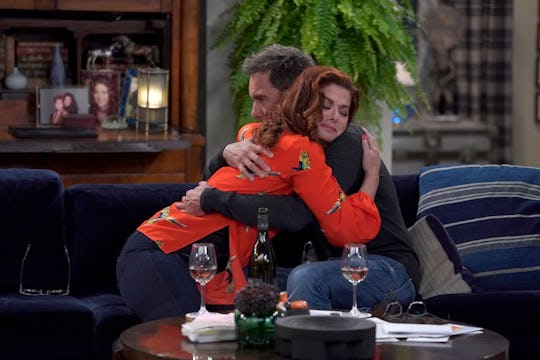 Chris Haston/NBC
This 'Will & Grace' Episode Tackles A Very Important Topic
Thursday night's Will & Grace hit all the feels and, trigger warning, it may be uncomfortable to watch. While the show hasn't shied away from difficult topics before, in this episode they really hit on something everyone's talking about these days. Will & Grace got real about "Me Too" on Thursday's episode — and women everywhere can relate. Unfortunately, it's an incredibly common occurrence.
In case you haven't heard, the "Me Too" wave, started by Tarana Burke, is a long overdue rallying cry for those affected by sexual violence and assault. According to the National Sexual Violence Resource Center, one in three U.S. women and one in six men will be at the receiving end of sexual violence in their lifetime. Shockingly, eight of ten victims already know the perpetrator. It happens at work, at school, walking down the sidewalk.
So, in true Will & Grace fashion, the next episode aims to tackle the controversial issue head-on. In the past, they've talked about politics, immigration, divorce, gay marriage — nothing's off limits and it's fabulous. But the next one is such a raw, sensitive topic.
When Grace (Debra Messing) decides to go with her dad (Robert Klein) on a road trip to visit the cemetery where her mom is buried, they stop at a cafe for lunch. Grace, never one to let an opportunity to connect pass, finally addresses a life-long secret about the man she worked for at the age of 15 — the man who was her father's best friend and is buried in the same cemetery as Grace's mother. When pressed on why she refuses to visit Harry's grave, Grace finally admits she'd been sexually assaulted by him. The only person she told was her mother. When she was just 15.
The news comes as a complete surprise to Grace's dad and honestly, his excuses for Harry are probably the most common and hurtful to victims and survivors everywhere. The old adage "boys will be boys," or "you're too sensitive," or even "times were different back then," are the structural components of her father's reaction and they only make Grace want to reel it back in, pretend it didn't happen, and pretend she wasn't affected. Because the truth is — and women everywhere understand this — when something like this happens to you, it's that exact response that may account for the two-thirds of sexual assault crimes going unreported, according to RAINN. That's 63 percent of sexual assault victims pretending it didn't happen like Grace had. Fear of not being believed is among the top reasons. Fear of being persecuted or sullied by the perpetrator further are others.
What Will & Grace gets right are the disbelieving words muttered by Grace's father. It's partly shock, but also that he doesn't want to believe someone he knew (or thought he knew) was capable of something so heinous. That, however, doesn't make Grace's confession any less true. That's the painful reality so many know — that women aren't typically believed and actions of perpetrators can be explained away. Society has to be better about holding perpetrators accountable — not the victims who will never forget what's been done to them, even if they never speak of it.
In the wake of the "Me Too" movement and beyond, it's difficult to see these discussions played out on "feel good" TV, but totally, completely, necessary. As a sexual assault survivor myself, watching Grace fearfully tell her father what had been done to her all those years ago was an all-too-real reminder I'm not alone. Maybe a half-hour comedy sitcom shouldn't address something so dark. Or, maybe the discussion is the only thing that reminds me I have a voice. And if you watched Thursday's episode and felt that unsettled, tsunami-like anger in the pit of your stomach, remember you do, too.
If you or someone you know has been sexually assaulted, call the National Sexual Assault Telephone Hotline at 800-656-HOPE (4673) or visit online.rainn.org.