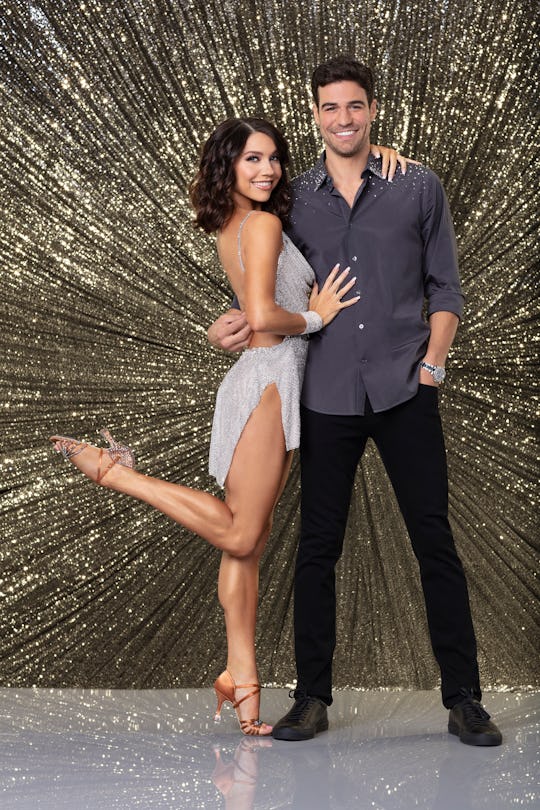 ABC/Craig Sjodin
Here's How To Keep Grocery Store Joe On 'DWTS' Another Week
Last week's Dancing With the Stars was a doozy. The Season 27 two-part premiere sent a surprise contestant home. Before I give all you Bachelor Nation fans a heart attack, rest assured — lovable "Grocery Store Joe" Amabile survived the elimination. Commence all the squeeing. It didn't matter that Nikki Glaser and partner, Gleb Savchenko, had higher scores than Amabile and partner, Jenna Johnson. Everyone's favorite Chicagoan grocer made it through — barely. But after seeing him struggle through the quickstep, will Grocery Store Joe go home this week on DWTS? For the love of all things Bachelor, I hope not. And if you pick up the phone to vote, he doesn't necessarily have to.
People reported judge Len Goodman — usually the harshest of the three — was rooting for the beloved grocer, even after handing Amabile a sad score of four. FOUR. The trio of esteemed DWTS judges held nothing back while comparing Amabile to a pimple. Really. "The trouble is, going wrong is a bit like getting a pimple," Goodman said. "You try and cover it up, but people always see it. And unfortunately, I didn't want you to go wrong, Joe."
If you, like most viewers, felt a twinge of protective rage hearing those comments, I hear you. You could almost see Amabile's boyish smile disintegrate into nothing. To keep things in perspective, Judge Bruno Tonioli also weighed in saying, "I think you just forgot the dance technique in the shopping trolley. You'll find it next week." And it's that last sentence that, hopefully, gives the world's grocer all he needs to be better in the next episode. If those comments feel a bit too harsh for this sensitive soul, leave it to judge Carrie Ann Inaba, to lighten the tone so Amabile didn't lose hope completely. "The good news is you have a big fan section right here," she said. "Not quite a dancer yet, but we're still at the beginning — we're at week one. I see you have charm. You can push a shopping cart really well." Hey, that's a real skill you know.
Amabile can thank die-hard fans for his second chance on DWTS this week. After receiving the embarrassingly low score of 14 out of 30, it seemed as though his brief stint on the show was over. This is where the call-in votes matter. They can make or break a contestant's elimination by rounding out the judges scores. So really, even the underdog gets the chance to come out on top (aka Amabile). He admitted he had no excuses for the sub-par performance but, no explanation or apology necessary, TBH. When asked what he was thinking through his routine, he told Entertainment Weekly it was "probably nothing," adding, "I was just really nervous. In the middle of the dance, I got into my head and forgot my steps."
With the reputation of going home on the first night (like on Becca Kufrin's season of The Bachelorette), Amabile's results came as a shock to all. Though, considering all he's said about his lack of experience, he might have wanted to go home. "Oh, you're excited, huh?" he said during the rehearsal package. "Don't be that excited," he cautioned while he and Jenna hugged. "I don't know how to dance."
After (what I'd call) the most awkwardly adorable performance of the night, Amabile was visibly disappointed in himself after hearing the judges' comments. Partner Johnson comforted Amabile by saying judges are "always harsh" on the first night but that she was also proud of him. Obviously, all of Bachelor Nation is, too.
With only two-and-a-half weeks to learn a complex dance, calm nerves, and get in the right headspace for the premiere, the 32-year-old Bachelor alum (who finally found love on Bachelor In Paradise with fellow contestant, Kendall Long — yay!) learned a new skill under extreme pressure and — more importantly — solidified his role as America's Favorite Grocer for all time.