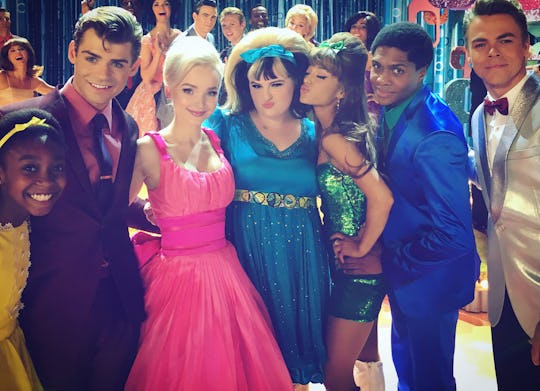 Maddie Baillio/NBC
Will 'Hairspray Live!' Be On Netflix? The NBC Musical May Go To Another Streaming Service
The great thing about live TV is that anything can happen and, if Saturday Night Live has taught its viewers anything, it's that a lot of the times live TV is totally worth watching in the moment, as opposed to at a later time. But for some, that's the only option and with Hairspray Live! premiering on Dec. 7, some might not be able to watch it right away. So will Hairspray Live! be on Netflix? The NBC musical special may be available for streaming shortly afterward, but it looks like the show will be heading to another streaming service.
For the most part, NBC has kept its shows linked to Hulu, thereby allowing new episodes of shows to become available to subscribers as early as the following day for streaming on Hulu. Netflix, on the other hand, tends to update its TV content on a season-by-season basis rather than debuting episodes week by week as they air. So, for the most part, they don't feature NBC programs, at least not as instantly as Hulu. Which is why I'm happy to reveal that even though Netflix probably won't have Hairspray Live! in its line up right away, Hulu definitely will.
According to TV Guide, Hairspray Live! will be available on the streaming service on Dec. 8, just a day after the live production premieres. That means you won't have to wait long to dance along to all your favorite hit songs.
This really should come as a big surprise though. When NBC's last live musical, The Sound of Music Live! premiered, it became available for streaming on Hulu as well, so why should this time around be any different? Grease Live! premiered on FOX at the beginning of 2016 and is currently available for streaming on Netflix, but since FOX seems to have a strong partnership with both Hulu and Netflix, seeing it appear on both platforms was nothing out of the norm.
Ideally, though, you're going to want to catch this production live, so you don't miss out on all the water-cooler chatter the next day. But it's totally understandable if you don't have the DVR capabilities that some people have. And if that's the case, Hulu will be your best bet to find the musical for streaming. So if you can't make the live show, no worries — you'll still be able to witness that Baltimore sound later on and belt out those Broadway numbers in the comfort of your own living room.
Hairspray Live! will air Dec. 7 on NBC at 8 p.m. (ET).