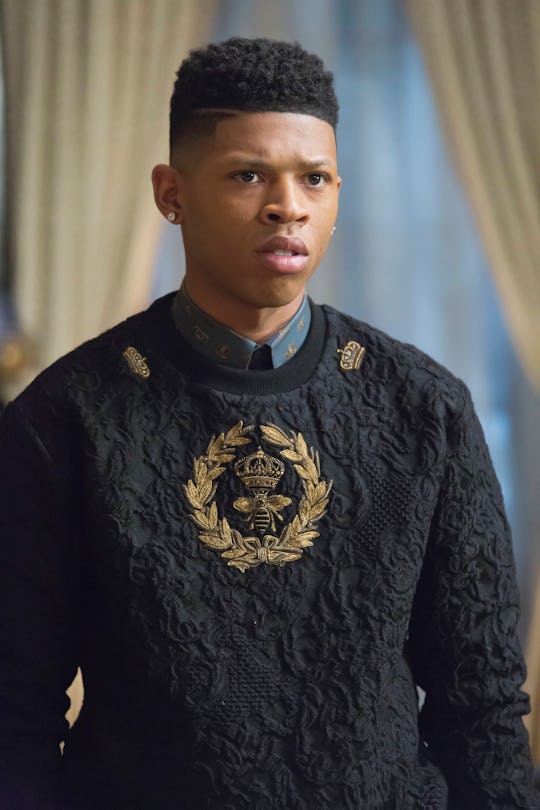 Chuck Hodes/FOX
Will Hakeem & Laura Break Up On 'Empire'? All Signs Point To Yes
In case you completely missed it, since it was barely mentioned on Wednesday's episode — Hakeem proposed to his girlfriend, Laura, on Empire. But, because this is Empire and things tend to be a bit dramatic, that's not nearly the end of the story. Now the most pressing question on the minds of fans is: will Hakeem and Laura break up on Empire? We may not yet know for sure, but it's highly probable, based on what we know.
Let's look back to the mid-season finale a few months ago, when Anika found out she was pregnant with Hakeem's baby. It was only a matter of a time before this huge, life-altering secret was to get out, and it looks like that time has finally come. On Wednesday's episode of the series, Anika finally told Hakeem she was pregnant with his baby, throwing him for a major loop. He is suddenly now faced with the duties of being of a father and everything that comes with that. Not to mention, he is now permanently tied to Anika, like forever.
Considering the fact that Laura lost her virginity to Hakeem right after the show's mid-season break (not that that long ago), I highly doubt that she will be OK with her fiancé impregnating his ex-stepmom (not related), let alone raising a child with her. It seems very likely to me that Laura will dump Hakeem. If you didn't catch the previews for next week's episode, it shows a brief tidbit in which Laura slaps Hakeem across the face and storms out. I may be jumping to conclusions here, but I assume this is related to the Anika pregnancy news.
It's also worth nothing that Empire has a reputation for drama and unpredictability, and so it seems perfectly probable that just when Hakeem and Laura are happier than ever, something comes out of left field, leaving their relationship to crash and burn. I'm willing to bet that these two have a shelf-life of just a few more episodes — if that.