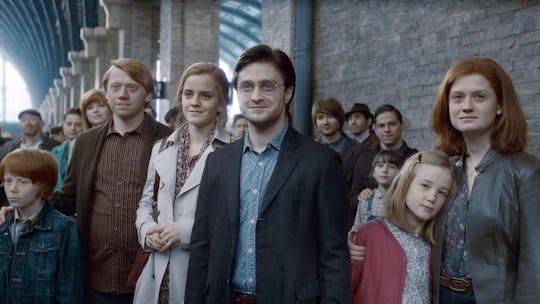 Warner Bros.
Will 'Harry Potter & The Cursed Child' Become A Movie? There May Be A Chance
I never look forward to summer months ending. I like the warm weather and excuse to eat ice cream for dinner. But I need really July to end, like now. Not because the heat has become unbearable, but because the end of July means the release of Harry Potter and The Cursed Child — both the script-turned-book and the play. And those who aren't lucky enough to see the performance at London's Palace Theatre may be wondering will Harry Potter and The Cursed Child become a movie because plain tickets to London aren't cheap and play tickets aren't that easy to come by.
It would make sense for Warner Brothers to add Harry Potter and The Cursed Child to their movie line up, and not just to please fans of the wizarding world. According to Forbes, the Harry Potter film franchise ranked in $10 billion between 2001 and 2011. Although Warner Brothers didn't pocket all of that money, it's still a large chunk of change for a company and one they haven't matched since the series ended in 2011. That's not say Warner Brothers is struggle by any means. (Another Forbes article noted that Warner Brothers' films grossed a collective $4 billion in 2014, with the studio pocketed $1.2 billion.) But it never hurts to have a little extra money in the bank, right?
Unfortunately for fans, it doesn't seem like Harry Potter and The Cursed Child will make its way to the big screen. At least, not any time soon. Shortly after word of the play made its way through the web, J.K. Rowling confirmed via Twitter that Harry Potter and The Cursed Child wouldn't be made into a movie. In hopes of pleasing fans, Rowling noted in that same tweet that Fantastic Beasts and Where To Find Them would be made into a three-part film franchise, with releases scheduled for 2016, 2018, and 2020. It was a sweet effort on her part, but she should know that Newt Scamander is no substitute for Harry Potter. I mean, come on, he's The Chose One.
But do lose hope yet Potterheads. Hyable revealed that Warner Brothers filed for the rights to Harry Potter and The Cursed Child earlier this month, meaning a movie is not totally out of the realm of possibilities just yet. They would just have to get Rowling on board. So keep your fingers crossed fans. And if you happen to be a Hogwarts almuni, maybe wave your wand around too.