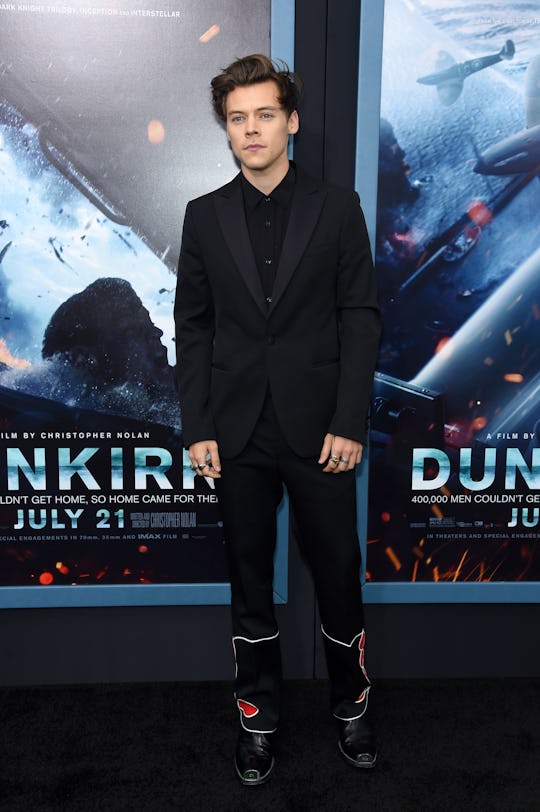 Jamie McCarthy/Getty Images Entertainment/Getty Images
Harry Styles Has A Good Reason To Attend The 2018 Oscars
There's a ton of buzz going around that Dunkirk could win the Best Picture award at the 2018 Academy Awards over Get Out or some other fellow nominee. But even it if doesn't, it's up for seven more awards, including Production Design, Cinematography, Sound Editing, Sound Mixing, Original Score, Film Editing, and Director. With all those chances at winning, a lot of fans are wondering whether Harry Styles will be at the 2018 Oscars to represent the film.
In case you missed it, Styles plays a soldier named Alex in Christopher Nolan's World War II drama, and his character might actually have the most intelligible lines in the movie, according to Vulture. The Oscars are a huge deal, and normally everyone in the cast shows up to show support for their projects and cast members, even if they're not nominated for their specific role. But Dunkirk was nominated for a slew of Golden Globes, too, and the former One Direction member was no where to be found, causing fans much duress on social media.
Styles also wasn't at the Grammys this year, either, so maybe he just isn't into the red carpet scene. Since his team hasn't made a statement about whether or not he RSVP'd to the Oscars, it's a toss up whether or not Styles will attend. Sorry, Directioners.
Although it's not likely that the movie will actually take home Best Picture, given some of the other contenders, like Get Out, Call Me By Your Name, and Three Billboards Outside Ebbing, Missouri, which was a Golden Globes favorite, are more likely to sway the Oscars voters. Although Dunkirk is an action movie without a whole lot of action (part of what makes it so great), those kinds of movies don't normally do really well at the Academy Awards.
Entertainment Weekly described the film as "a full-body sensory experience that sweeps you up in its thrall and places you directly into the fog of war. It leaves you emotionally exhausted by the time the end credits roll," which is not a bad review. But it might not be enough to beat out Get Out or Three Billboards.
It also wasn't a character piece, by any means. CNN reported that if there was a main character in the film, it's the sand of the battlefield. So it's not exactly the actors' faults that they're not nominated for any of their performances. This film was all about aesthetics, and its nominations reflect that. It's also possible that Styles will sit out the Oscars, like he did the Globes, so as not to distract from the film.
Styles seemed pretty shy about being in a movie and whether or not he'd take on more acting roles when he spoke to ExtraTV last year. "I feel very lucky to be a part of this project and this film, and I think the film is great," Styles stated, while adding, "I love this experience so much, I haven't thought too far ahead. But I loved this experience, so who knows, maybe."
Just in case you wondering, though, Styles came to Nolan and not the other way around, according to The Hollywood Reporter. And it wasn't some stunt to drum up attention from Styles' legions of fans for the movie. The director really had no idea who Styles was at all. Nolan said in his interview with THR about casting the 23-year-old pop star:
I don't think I was that aware really of how famous Harry was. I mean, my daughter had talked about him. My kids talked about him, but I wasn't really that aware of it. So the truth is, I cast Harry because he fit the part wonderfully and truly earned a seat at the table.
Hopefully, Styles will delight his fans and walk the red carpet at the Oscars this year, since his spot in the film was so well-deserved. But if you're only tuning in for him, it might not be worth turning on the TV.
Check out Romper's new video series, Romper's Doula Diaries:
Watch full episodes of Romper's Doula Diaries on Facebook Watch.