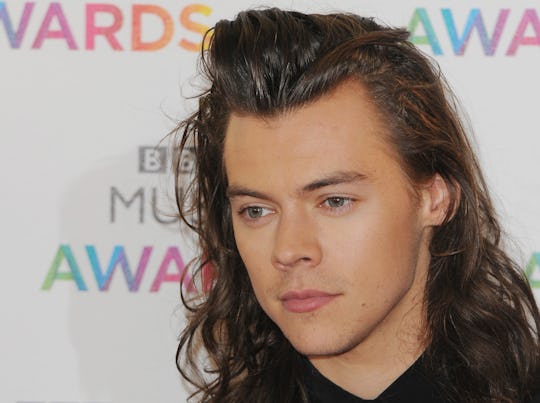 Will Harry Styles Go Solo Now That One Direction Has Split? Fans Hope So
Warning to all One Direction fans out there: You better sit down. After months of speculation, seemingly endless rumours, and one "extended hiatus" it is official — well, sort of. Earlier Wednesday, announcements came that the British boy band One Direction is splitting for good, according to Us Weekly. Zayn Malik exited the group in March 2015, and now Louis Tomlinson, Niall Horan, Liam Payne, and Harry Styles are following suit. But there has been no official announcement, and no one in the One Direction camp has confirmed or denied this recent news. However, if the reports are true, what does that mean for Louis, Niall, and Liam? And...and...what about Harry? Will Harry Styles go solo because of the split? He's already released some solo work, so fans can only hope he'll continue.
According to Us Weekly, the foursome decided "not to renew their recording contract" after ending the group's tour in October. "The 1D thing just ran its course. They'll remain friends, but they are exhausted and want solo careers," a source told Us. But it seems those solo careers will vary.
Sources at Us Weekly have said that Liam wants to take his talents behind the scenes — pursuing a career in songwriting and production. Louis plans to slow down and settle into family life: He is going to be a first-time dad after all. (Louis is expecting a baby with Briana Jungwirth.) And Harry is looking to move from the stage to the big screen. According to Us Weekly's source, "Harry is launching a career in acting and singing."
Singing and acting. And, according to MTV, he was working on four new solo tracks, "5378 Miles," "Already Home," "Coco," and "Endlessly," as recently as December.
No word what Niall will do, at least not yet, but there is also no word if the whole splitting thing is true...so I think we still have time. (In fact, other sources told Hollywood Life that "[t]here's no truth to this" new rumor. "It remains a hiatus with the intention of reuniting as some point, as the guys have said in all recent interviews.")
Confused yet? Don't worry. So am I.
The good news — if it can be seen as such — is that even if the handsome foursome parts ways, they will still give their fans one more gift: They will release a video for another track on their Made in the A.M. album. So, fans can relax until the news has been confirmed. But, either way, One Direction won't be disappearing immediately.
Images: Axelle/Bauer-Griffin/FilmMagic; Eamonn M. McCormack/Getty Images Entertainment