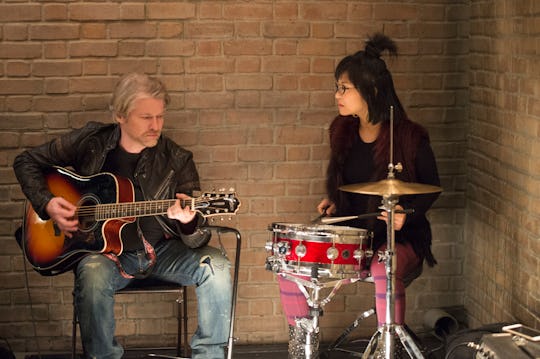 Neil Jacobs/Netflix
Will Hep Alien Return For The 'Gilmore Girls' Revival? Lane Is Ready To Rock
On Gilmore Girls, there were a lot of characters to fall in love with, but one fan favorite was always Rory's best friend, Lane. Although Lane's mother, Mrs. Kim, was a strict Seventh-day Adventist Christian who forbade Lane from engaging in pop culture in any way, shape, or form, that never stopped her rebellious daughter from wanting to rock. Her CD collection, hidden away in the floorboards of her bedroom, was the envy of many Gilmore Girls fans and it was no surprise when Lane's love for music led her to joining a band. Thankfully Hep Alien will be returning for the Gilmore Girls revival and viewers will get to see Lane and Zack, along with their band, rock out one more time.
Lane first fell in love with the drums when a music store opened in Stars Hollow. She couldn't resist just sitting down in front of the drums and imagining what it would feel like to play and even though she had some major obstacles to overcome in order to pursue it (like her mother), Lane did it. Then when she was ready, she put up flyers, so she could find herself a band. That's how she met Dave, who brought her into his band and also became her first boyfriend. And while she and Dave eventually broke up after he went to California for college (aka Adam Brody was cast on The O.C.), Lane stuck with Hep Alien and they've been rocking together ever since.
After Dave left, the band had to get a new guitarist and Gil, who's played by Skid Row's frontman Sebastian Bach, joined the band. After that, Hep Alien saw more success, getting gigs around town and even going on tour with the surprising help of Lane's mom, who found them Seventh-day Adventist churches to play at. Through the band, Lane also found her second love interest, Zack, who she ended up marrying and having twin boys with, Stevie and Kwan. When the series ended, fans saw Lane stay behind in Stars Hollow while Zack went on a two-month long tour as a guest lead guitarist for another band.
This left many fans disappointed with the end of Lane's story, but in the revival fans will get to see her back at her drums once more, playing right alongside her husband and the rest of Hep Alien. I can't wait!
Gilmore Girls: A Year in the Life will be available on Netflix beginning on Nov. 25.