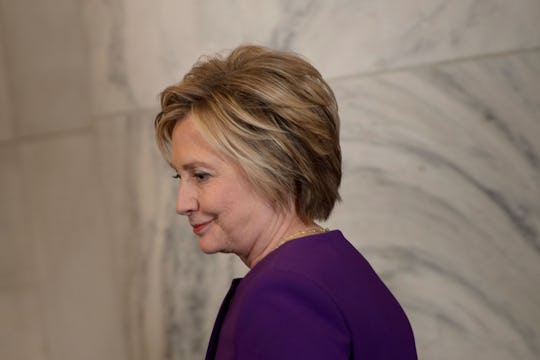 BRENDAN SMIALOWSKI/AFP/Getty Images
Will Hillary Clinton Attend The Women's March?
The upcoming Women's March on Washington is scheduled for Jan. 21, the day after President-elect Donald Trump's inauguration in Washington D.C. Organizers are expecting more than 100,000 protesters, which would mean the Women's March would become the largest protest against a new president in the nation's history. Sparked by former Secretary of State Hillary Clinton's stunning Election Day defeat, the march has adopted one of her signature quotes as it's rallying cry, that "women's rights are human rights." Will Hillary Clinton attend the Women's March on Washington? There's been no official announcement, but regardless of whether she shows up, her presence will most certainly be felt among the crowds.
The march was first inspired by a grandmother living in Hawaii named Teresa Shook, who set up her own Facebook event page and posted about her idea in the pro-Clinton Facebook group Pantsuit Nation, and started what promises to be a history making protest against Trump, according to Reuters. Now, in addition to the more than 100,000 protesters who say they'll be in Washington to march, protests are also scheduled in London and Frankfurt with hundreds of thousands registered to attend, Reuters reported.
"I didn't have a plan or a thought about what would happen," Shook told Reuters. "I just kept saying, I think we should march."
Now the event has grown into a collection of leading activists, including honorary co-chair and feminist icon Gloria Steinem and co-chair and civil rights giant Harry Belafonte, according to Newsweek. There's also a staggering list of bold-faced names who are planning to attend, including Cher, Uzo Abuda, Scarlett Johansson, Frances McDormand, Katy Perry, Amy Schumer, and Zendaya, Newsweek reported.
Clinton might not be inclined to make an appearance at the march because of her role as an election rival of Trump's. The protest is intended, according to the Women's March mission, to be about how the Trump administration should govern following the election:
The rhetoric of the past election cycle has insulted, demonized, and threatened many of us - immigrants of all statuses, Muslims and those of diverse religious faiths, people who identify as LGBTQIA, Native people, Black and Brown people, people with disabilities, survivors of sexual assault - and our communities are hurting and scared. We are confronted with the question of how to move forward in the face of national and international concern and fear.
In the spirit of democracy and honoring the champions of human rights, dignity, and justice who have come before us, we join in diversity to show our presence in numbers too great to ignore. The Women's March on Washington will send a bold message to our new government on their first day in office, and to the world that women's rights are human rights. We stand together, recognizing that defending the most marginalized among us is defending all of us.
The protest, based on the mission from it's organizers, isn't about Hillary losing the election, it's about demanding more respect for women and other minorities from President-elect Trump who was elected despite saying on a 2005 Access Hollywood tape that he has grabbed women by the "p*ssy" without consent. Trump was elected despite accusations from multiple women of sexual assault (all of which he has denied), and despite his disparaging comments about Mexicans, Muslims, a Gold Star family, John McCain's prisoner of war status, and so many other offensive remarks.
The Women's March is about much more than Hillary Clinton, and her presence there might overshadow that larger message:
"The work of this march is not only to stand together in sisterhood and solidarity for the protection of our rights, our safety, our families and our environment — but it is also to build relationships and mend the divides between our communities," the co-chairs said in a statement, according to Vox. "It's hard work, and it will be ongoing."
But whether Clinton ultimately makes an appearance or not on Jan. 21, her presence will be felt, and her election loss still freshly painful for the thousands of women who are showing up to demand their country, and newly inaugurated president, do the right thing and treat them with basic fairness.