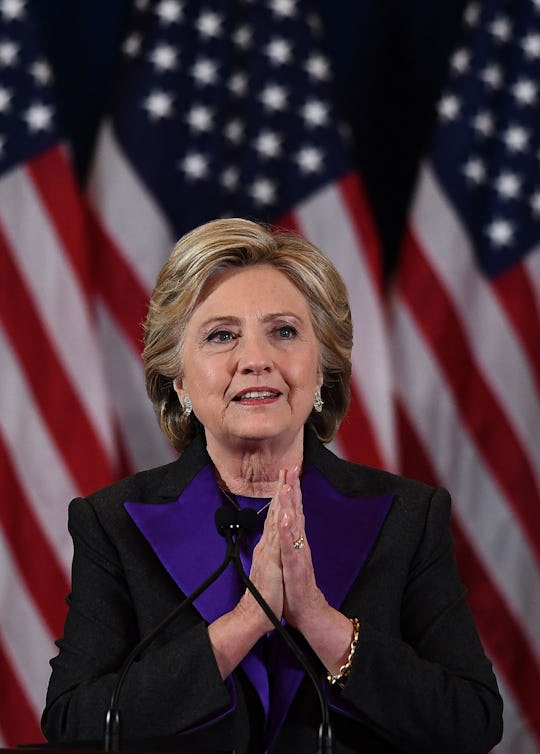 JEWEL SAMAD/AFP/Getty Images
Will Hillary Clinton & Donald Trump Work Together? Her Concession Speech Suggested So
Conceding the presidential nomination to GOP candidate Donald Trump, Democratic candidate Hillary Clinton spoke proudly of what her campaign was able to accomplish in her Wednesday morning speech. But before offering such insight and comfort to her supporters, Clinton shared that she'd already offered her assistance to Trump. Will Hillary Clinton and Donald Trump work together? "Last night I congratulated Donald Trump and offered to work with him on behalf of our country," Clinton said, but failed to indicate how Trump reacted to the suggestion of such a partnership.
On the very same day, Trump told crowds he'd received a call from Clinton a bit earlier. "She congratulated us, it's about us, on our victory. And I congratulated her and her family on a very, very hard fought campaign," he asserted, implying that it was a cordial exchange, contrasting what has been an otherwise ruthless pair of campaigns.
On Thursday, Trump spent the day catching up with another Democrat. Meeting Obama at the White House offered a similar perceived outcome, leading Trump to express: "I have great respect for [President Obama]." According to both Trump and Obama, their 90-minute discussion was quite constructive. "We now are going to want to do everything we can to help you succeed because if you succeed, then the country succeeds," Obama told Trump, putting the needs of the country ahead of his personal opinion.
Obama and Clinton aren't the only Democrats looking to work with Trump. Sen. Elizabeth Warren has also reached out, saying: "I will push aside our differences, and I will work with him," despite their contentious, name-calling ridden past relationship. Warren's speech on Thursday didn't shy away from criticism, however, noting that Trump "encouraged a toxic stew of hatred and fear." But, ultimately, Warren offers her collaboration as Trump as "an opportunity to chart a different course: To govern for all Americans and to respect our institutions."
If Trump's victory speech is at all sincere, he's open to collaboration. He rallied:
Now it's time for America to bind the wounds of division; have to get together. To all Republicans and Democrats and independents across this nation, I say it is time for us to come together as one united people.
Hopefully, President-elect Trump will make good on his promise to listen to perspectives outside of his own and outside of his party; A failure to do so would divide the country even deeper along party lines. Democrats' willingness to work with Trump rather than ignore him altogether might provide a more open platform for the effective change that both parties have been seeking.