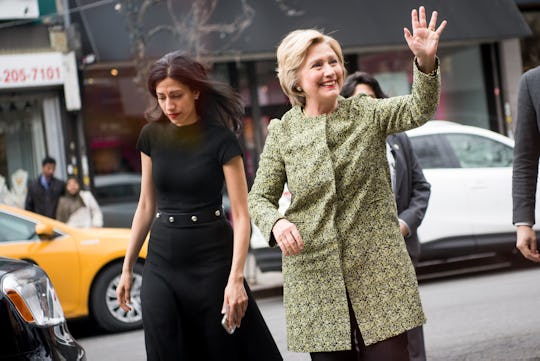 Andrew Theodorakis/Getty Images News/Getty Images
Will Hillary Clinton Fire Huma Abedin? The Top Aide Is Caught In A Difficult Position
The Clintons are known for maintaining a tight inner circle, and closing ranks is critically important in the days leading up to the presidential election. But when FBI Director James Comey revealed that the investigation into Democratic presidential nominee Hillary Clinton's emails while serving as Secretary of State could be reevaluated based on emails unearthed in a separate investigation, one of Clinton's long-time aides found herself at the center of a media maelstrom. Will Hillary Clinton fire Huma Abedin? They haven't severed ties yet, but CNN reported that the events of the last week may have immediately influenced the nature of their working relationship.
The controversy began when Comey wrote a letter to Congress revealing that the FBI had uncovered emails potentially relevant to an earlier investigation into Clinton's emails, according to The Washington Post. Though it's unclear whether the emails in question are actually of legal importance, Comey's announcement had an immediate political impact and drew criticism for its potential to unfairly influence the presidential election. Comey's letter allegedly referenced emails tied to a separate investigation of former New York Rep. Anthony Weiner, CNN reported. After the FBI reportedly seized Weiner's computer, they found emails on the laptop belonging to his ex-wife, Abedin. It's believed that those emails are the ones that could potentially be tied back to the FBI's investigation of Clinton's emails, but it's unclear whether they contain any relevant or incriminating information. Both Abedin's lawyer and the Clinton campaign did not immediately respond to requests for comment.
The timing of the news may be dangerously inconvenient for the Clinton campaign, but it seems as though Abedin didn't know it was coming. Abedin's lawyer said Abedin wasn't aware of emails on Weiner's computer, NBC News reported; apparently, Abedin herself learned of their existence through press reports. And given Abedin's deep connections to the Clinton family, it's difficult to imagine this situation ending their professional relationship altogether. Abedin interned for First Lady Clinton at only 19 years old, according to The New York Times. She ultimately transitioned into Clinton's deputy chief of staff during Clinton's time as Secretary of State, and she and Clinton have been virtually inseparable in 2016 as Abedin served as the campaign vice chair.
But as details emerge of what exactly Comey's letter means for Clinton, Abedin seems to be stepping out of the spotlight. Abedin appeared to stop traveling with Clinton on Friday and, according to a Wednesday report by CNN, hasn't been spotted stepping on a plane with her since. One Clinton aide told CNN Tuesday that Abedin is still working for Clinton, but she's based out of the Brooklyn campaign headquarters for now. It's unclear what's ahead for Abedin, but she seems to be doing what she can to shift the attention back to her boss.