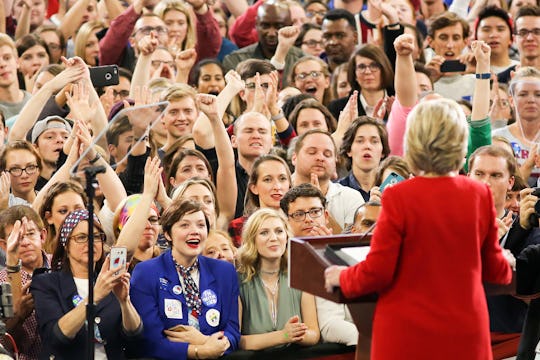 AFP/AFP/Getty Images
Will Hillary Clinton Run For President In 2020? After This Election, Anything Is Possible
It was an outcome that very few expected — including the polls. Despite the fact that early polling put former Secretary of State Hillary Clinton in a commanding lead for the commander-in-chief title, Donald Trump officially became the president-elect early Wednesday morning. But, as anyone in media or who has watched media knows, after one election ends, another begins. Any, after she launched such a hard-fought campaign backed by millions of supporters, it's easy to wonder: Will Hillary Clinton run for president again?
Once the electoral college began to skew in Trump's favor Wednesday, it seemed that Clinton might not accept defeat too quickly — particularly after Clinton campaign chairman John Podesta took the state in New York, sans Hillary Clinton, to insist that the election was far from over. (Clinton conceded to Trump via phone call shortly thereafter.) After all, based on polls, it seemed that Clinton had plenty more supporters than Trump. But, whatever the reason as to the unreliable nature polling — some say participants were hesitant to admit their preference to the now president-elect — it's still clear that Clinton does have voters eager to see her in the White House. But does that mean she'll actually get there?
Of course, at this point, it's difficult to say. We have yet to hear from Clinton about her loss, and whether she will continue to fight to break the glass ceiling that seems ever more solid following Trump's win.
But a Trump vs. Clinton redux in 2020 isn't completely out of the question. After all, should Clinton have actually won Wednesday morning, she would have likely been looking to repeat a term after her first four years in the White House. Some would point to Clinton's age as to a reason why the former Secretary of State wouldn't run for another term — but, at 73 in 2020, she would still be one year younger than Trump, and the same age as Vice President Joe Biden, who many were touting for the presidency before he backed out of the 2016 race. (Not to mention two years younger than Bernie Sanders, who is six years older than his former opponent.)
What's more, even Trump supporters have said another face-off between the two candidates is possible. Just weeks ago, former U.S. Representative Newt Gingrich said he saw a repeat of the Trump vs. Clinton race in 2020 — even though he was assuming a Clinton victory. As he told POLITICO's Open Mike, "I think it's very possible." (Of course, he followed it with, "assuming she survives," which, politically, she did not.)
Then again, no one would argue with the fact that Clinton's 2016 road was a rocky one, filled with repeated accusations (hello, emails) and character attacks (hello, nasty women). Clinton faced sexism regularly, with many demanding she apologize for her husband's actions while Trump's Access Hollywood antics hit the airwaves with little apology from the now-president-elect. It's almost unthinkable to have to endure that for the 500 days of the 2016 election cycle — to do it all over again in four years? It would be difficult to blame Clinton for pursuing other political paths. And those predicting the frontrunners of the next election are already excluding her from lists of those who could land the job.
Still, as this election has proved, anything is possible. And, as Trump himself said during the second presidential debate at Hofsta University, "I will say this about Hillary. She doesn't quit. She doesn't give up. I respect that. She's a fighter." And here's guessing, come 2020, there will be plenty of people looking for someone to fight for them.