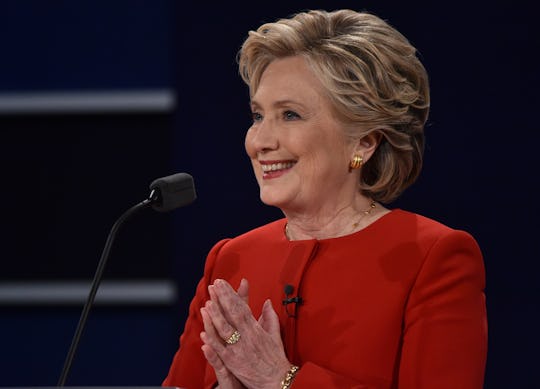 PAUL J. RICHARDS/AFP/Getty Images
Will Hillary Clinton's Poll Numbers Increase Following The First Presidential Debate?
With the first presidential debate of the general election now in the rearview mirror, many are wondering what effects it will have on the polls. As the early surveys are giving Hillary Clinton an edge on her performance for the night, the big question is: Will Hillary Clinton's poll numbers increase following the first presidential debate?
According to a CNN poll of 521 debate watchers in the aftermath, which tended to be a more "Clinton-friendly audience," 62 percent of people who tuned in said Clinton won while only 27 percent said Trump was the winner of the night. Another poll on Twitter by USA Today showed a smaller margin in Trump's favor, with 49 percent saying Clinton won and 51 percent siding with Trump.
Many analysts seemed to hand the first segment of the debate to Trump, who made points that resonated with undecided voters, according to CBS News. But, as the debate progressed and Trump resorted to jabs at Rosie O'Donnell, Clinton kept her composure and seemed to win some points. As The New York Times put it in its analysis of the first debate:
Hillary Clinton dominated a final series of debate exchanges with Donald J. Trump about national security and gender, telling voters they could not trust her opponent with nuclear weapons and warning that he does not respect women.
Still, Clinton was criticized for a number of issues throughout the night. Some of the concerns brought up about her were valid; others, such as the comment from NBC's Chuck Todd that Clinton was "over-prepared," were laughable. With all of that in consideration, it's less clear whether the first presidential debate will give Clinton the edge she needs in national polls.
With just more than one month to go until the general election, it's getting increasingly crucial for either candidate to increase his or her margin on the other. But, before the debate, Trump and Clinton were nearly tied in most national polls: In the latest Bloomberg Politics poll before Monday night, both candidate had 46 percent of likely voters on their sides.
That meant both candidates were trying to appeal to still-undecided voters during the debate, which The Wall Street Journal identified as an issue for Clinton.
The big problem for Mrs. Clinton is that this bloc of wavering voters includes a lot of young people, aged 18 to 29 ... But a significant share of them say they will reject her as well as Mr. Trump and vote for Mr. Johnson or Ms. Stein. In a few recent national and swing-state polls, Mr. Johnson rivals or beats Mr. Trump among millennials, and comes close to matching Mrs. Clinton.
As the dust settles around the debate and the next set of polls emerge, it will be interesting to see whether Clinton regained any kind of edge over Trump.