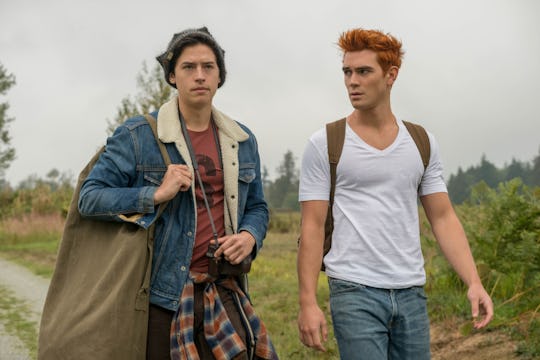 Cate Cameron/The CW
Hiram Has Plans To Hunt Archie And Jughead Down On 'Riverdale'
After a dangerous and almost deadly stint in prison, Archie Andrews is now on the run with his best friend Jughead Jones. Hiram Lodge — who framed Archie for murder — is desperate to keep Archie from unearthing his criminal secrets, so he'll do anything to get rid of him. He has all the resources he needs to track the pair down, but will Hiram catch up to Jughead and Archie?
Riverdale is anything but predictable, so there's no way to know if Hiram will catch up to Archie and Jughead or not. However, in an interview with Collider, actor Mark Consuelos revealed that his character definitely has plans to hunt Archie down. "I think he doesn't like the fact that Archie's on the run and doesn't know exactly where he is," said Consuelos. "That's a little loose end that he needs to tighten up."
In Episode 6, "Manhunter," the authorities and the killer Gargoyle King are looking for Archie, who, with the help of his friends, was able to escape from prison. Warden Norton — who was working under the influence of Hiram and the Gargoyle King — had been forcing Archie fight in the prison's underground fight club, possibly to his death. After escaping, Archie goes on the run, while Veronica finds the evidence needed exonerate him. But after hearing of Joaquin's death (he was branded with the same symbol Archie got from the Warden) and hearing Jughead's theory of Hiram's involvement with the Gargoyle King, Archie decides it's better if he stays away from Riverdale. He realizes that Hiram will never let him go as long as he's with Veronica, so he hits the road without her.
Varchie fans could not have been thrilled with the last minute ghosting Archie pulled on Veronica, but in his defense, he did it out of love. "Your dad is still out there and I can't escape him," Archie tells Veronica over the phone. "As long as we're together, he'll be hunting me down and everyone close to me is his target, that includes you." After major push back from Veronica, the two share a tearful goodbye, and Archie heads out with Jughead by his side.
When talking to Collider, actor KJ Apa explained that Archie only broke up with Veronica to protect her. "I think Archie being in Riverdale puts her in danger because of the whole thing with Hiram and stuff like that, " said Apa. "I think Archie being in Riverdale kind of puts a lot of people in danger, but most of all it puts Veronica in danger. But that being the reason for them having to part ways means that there is still something there, you know what I mean?" Sure, fans know what you mean, but it doesn't mean they have to like it.
With Archie out of Veronica's life, you can bet Hiram is going to rub it in her face. In the same interview with Collider, Consuelos revealed that Hiram will take pleasure in seeing his daughter hurt by Archie. "Well, he loves it. He left her alone and he's abandoned her. It was like what could be better than that?" said Consuelos. "But yeah, of course, he capitalizes on the fact that she's upset. So, there's a lot of fun stuff, really fun stuff coming up in the next episodes."
Now whether that fun stuff includes Hiram catching up with Archie and Jughead is yet to be seen, but you can bet that he'll be relentless.
New episodes of Riverdale air Wednesdays at 8 p.m. ET on The CW.
This first-time mom wants to have a home birth, but is she ready? Watch how a doula supports a military mom who's determined to have a home birth in Episode One of Romper's Doula Diaries, Season Two, below. Visit Bustle Digital Group's YouTube page for the next three episodes, launching Mondays in December.