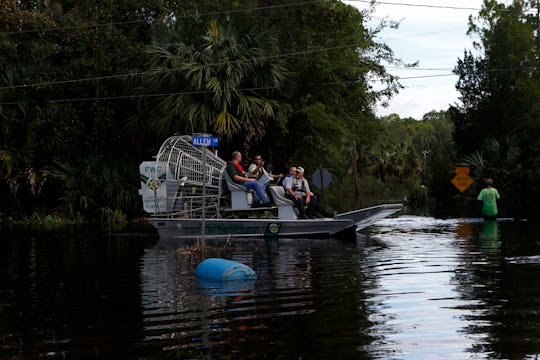 Brian Blanco/Getty Images News/Getty Images
Will Hurricane Hermine Make Zika Spread Worse? It's Definitely Possible
Hurricane Hermine ripped through Florida late last week, leaving behind it a trail of power failures, building wreckage, and damaged trees. And although it weakened to a tropical storm as it traveled up the East Coast, it's now prompting concern from experts. The standing water, debris, and warm weather make a breeding ground, literally, for mosquitos. And now, Gov. Rick Scott is warning Floridians to stay away from the storm wreckage so as not to expose themselves to mosquitos that may be carrying the Zika virus, according to ABC News.
With almost 3,000 cases of Zika in the continental United States — and more than 500 of those in Florida, according to the Washington Post — Hermine's arrival could not have come at a worse time. Scott had to cancel his lobbying trip to D.C., in which he was going to demand federal attention and action on Zika, so that he could focus on the aftermath of Hermine, which could include an increase in Zika-carrying mosquitos.
An increase in mosquito population is "not uncommon" following big storms, urban entomologist Steve Jacobs told Accuweather.com. Jacobs also said that because mosquitos lay their eggs in water, standing water can help foster the larva. That's why mosquitos are often associated with marsh-like areas, and not as much with rivers or oceans.
A drone video published by the Telegraph shows that similar conditions, like extensive flooding and waterlogged streets, are present in Florida. So it's likely that there could be an increase in the mosquito population, which could mean that there is an increase in the number of mosquitos carrying the Zika virus.
There have been 35 locally spread cases in the continental United States, the first case of which occurred in Miami. And the other 34 have also been in Florida, so we know that there are already mosquitos carrying the virus in the state.
With a lack of funding already starting to exacerbate the spread of the Zika virus, this can be worrying. Its aftermath could be a public health concern for the whole country. So is there any hope?
Definitely. Jacobs told Accuweather.com that what really matters in determining whether there will be an increase in the mosquito population is how long standing water remains. Because much of the land in Florida is very flat, that could be a while. But it's also hot, and that would mean that the water will evaporate eventually. Here's to hoping that the water in Florida evaporates quickly and doesn't become a home for Zika-carrying mosquitos.