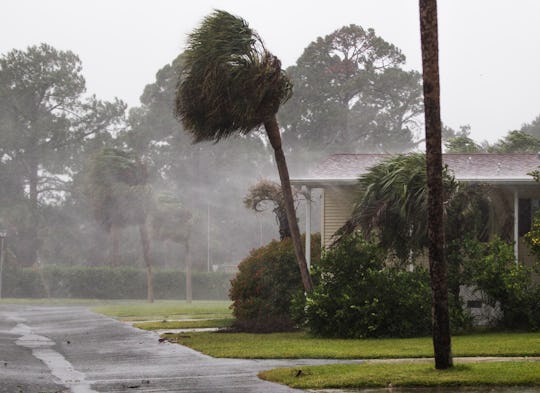 Mark Wallheiser/Getty Images News/Getty Images
Hurricane Irma Has Atlanta Under Its First Tropical Storm Warning
Millions of people in Florida have been left without power in the wake of Hurricane Irma, which hit the state Sunday. The good news at least, according to CNN, is that Irma is weakening, and has now been downgraded to a tropical storm. The bad news? It's not even close to being done. On Monday morning, Irma moved north, hitting Georgia, Alabama, Tennessee, and the Carolinas, and parts of the south not normally at risk for tropical storm damage are now preparing for a hit. Will Hurricane Irma hit Atlanta? Georgia Gov. Nathan Deal has declared a state-wide emergency, and the city has been placed under its first-ever tropical storm warning for Monday and Tuesday, with schools, government offices, and public transit service all closed as a result.
At 250 miles inland, Atlanta isn't exactly a usual hot spot for tropical storms. But according to The Atlanta Journal-Constitution, the city is on track to get hit hard by the eastern side of the storm as it passes through the state to Alabama, Tennessee and Kentucky. And that's likely to mean heavy winds, plenty of rain, and the possibility of tornadoes. According to WSV-TV 2 Atlanta, the city can expect between 3-6 inches of rain Monday, with winds between 40-60 miles per hour.
That's much less, of course, than the devastation caused by Hurricane Irma in Florida, where the storm hit Miami as a Category 2 hurricane, flooding the downtown and bringing winds in excess of 100 miles per hour, according to The New York Times. But for a city not necessarily prepared for such a storm, it could be a huge deal. According to The Atlanta Journal-Constitution, Atlanta Mayor Kasim Reed said his "biggest concern is wind speed and the lack of preparation for really making sure things are tied down," adding that the high wind speeds could "turn these items into projectiles."
Another major concern? The fact that the city is home to the world's busiest airport, Atlanta-Hartsfield. According to CNBC, more than 104 million travelers passed through the Atlanta airport last year, and nearly 2,500 planes take off and land from the airport each day. But sustained high winds mean that airplanes may not be able to take off or land. According to USA Today, nearly 900 flights have already been canceled ahead of the storm — about one-third of the entire day's schedule — and Irma now marks the third time a major airport hub has been hit by a severe storm this month alone. According to CNBC, Atlanta is the third major airport hub to be hit by a major storm in a month: Irma already knocked out service at American Airlines hub Miami International Airport, and Houston's George Bush Intercontinental Airport was hit hard by Hurricane Harvey in August.
With the worst of the rain and wind expected to hit the city this afternoon, officials are urging Atlanta residents to take the warnings seriously and to stay indoors. According to The Weather Channel, more than 200,000 Georgia residents were experiencing power outages by Monday morning, and numerous gas stations in Atlanta and the surrounding areas are reporting being out of gas.
Although the extent of the storm's impact on Atlanta is still to be seen, there's no doubt that the past month of hurricanes will have many people worried. And given the potential for destruction, it seems important that everyone in the city do the best they can to stay as far out of harm's way as possible.