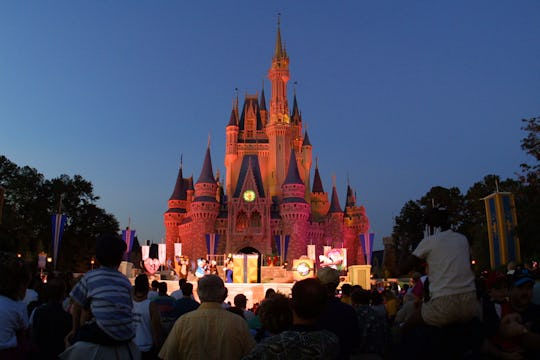 Joe Raedle/Getty Images News/Getty Images
Hurricane Irma Might Hit Disney World
Although it's been in the news for at least a couple of days now, it's still just a little too early to tell when and where Hurricane Irma will make landfall. The National Oceanic and Atmospheric Administration stated that Irma is now a Category 5 hurricane, and it's definitely making people a little nervous. But will Hurricane Irma hit Disney World? And what will the acclaimed theme park do if that does happen?
Hurricane Irma is on track to get to Florida by this weekend, according to Heavy. And that's where "the happiest place on earth" is located. Disney World is located in central Florida, so it's not going to deal with coastline flooding the way a lot of seaside towns in the state may have to worry about when it comes to a hurricane. But it still might be affected by Irma if it hits Florida.
Florida Gov. Rick Scott declared a state of emergency on Monday afternoon for all 67 counties in Florida, according to USA Today. That gives local governments the time and resources needed to adequately prepare for Irma, and doesn't necessarily mean that it will even hit the state or that every county will be impacted. But just in case, the people of the state are getting ready.
So while it's too soon to tell whether Hurricane Irma will definitely hit Disney World or not, that doesn't mean the park isn't prepared just in case, or that this is uncharted territory for the company. In fact, Disney World has closed in the past due to storms — as recently as last year, even.
The park was closed for Hurricane Matthew, according to Heavy. It was the first time in more than a decade that the park closed for a hurricane, but Walt Disney World has closed for hurricanes three other times in the past as well, according to that outlet.
Disney World's website actually has a "Hurricane Q&A" page, so the company is ready for these storms. The page states that if a hurricane warning is issued by the National Hurricane Center for the Orlando area — or even for where a prospective Disney World visitor lives — within seven days of a visitor's scheduled arrival date, they can call beforehand to reschedule or cancel a "Walt Disney Travel Company Magic Your Way vacation package," without any cancelation or rescheduling fees charged by Disney.
According to Theme Park Tourist, Disney has a ton of safeguards in place for severe weather situations. For example, although there are currently no hurricane watches or warnings for the area Walt Disney World is located in, the resort's disaster relief center is "officially on alert," and preparations are already being made should the worst case scenario come to pass.
Plus, did you know that Disney World has disaster command posts that can administer supplies and personnel if necessary? So even if severe weather does impact the park, but not to the point that evacuation is necessary, Disney is more than ready for it.
It's not 100 percent clear yet, to anyone, where exactly Hurricane Irma will head next. The National Hurricane Center currently shows a "probable path" of the storm that shows it impacting Puerto Rico, Jamaica, and, yes, Florida.
But if Irma does hit Disney World, the theme park is ready for that possibility. It just might not be the happiest place on Earth for a couple of days — or the driest.