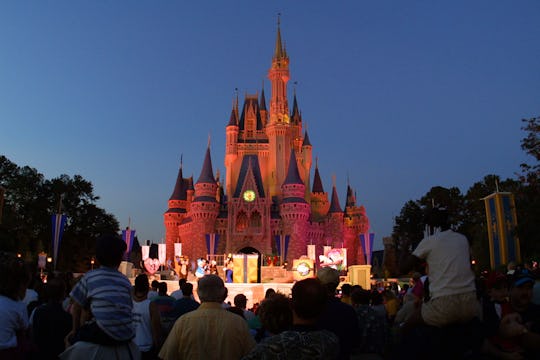 Joe Raedle/Getty Images News/Getty Images
After Making Landfall In The Caribbean, Will Hurricane Maria Hit Disney World?
Just weeks after Hurricane Irma blew through and ravaged parts of the Caribbean and Florida, another monster storm is pummeling some of those same areas. The mammoth Hurricane Maria has already, tragically, claimed two lives on the French Island of Guadalupe and seven on the island of Dominica, USA Today reported. It continued its path of destruction by leaving all of Puerto Rico without power on Wednesday, and it continues to barrel toward other locales weary of the devastation it has already unleashed. Amid this awful news, Floridians who lived through Irma can feel somewhat assured the hurricane will miss their state, meaning that Hurricane Maria likely won't hit Disney World.
Of course, Disney World's fate is nowhere near as important or pressing of an issue as that of the real people's homes that were destroyed by Maria on the Caribbean islands of St. Croix or St. Thomas, for example, as CNN reported. As long as the people there are safe, the parks' and resorts' outcomes pale in comparison to the the chilling Facebook report of Dominica's prime minister, Roosevelt Skerrit, who noted his focus in on assisting the injured and freeing the trapped: "[T]he winds have swept away the roofs of almost every person I have spoken to or otherwise made contact with."
Still, anyone who, say, has a trip to Orlando's Disney World planned for the next few days or weeks, works there, or lives nearby is certainly anxious to know how the theme park will be affected, if at all. And those people can breathe a giant sigh of relief: After it heads for the northeast coast of the Dominican Republic on Thursday and the southern part of the Bahamas on Friday, as it is projected to do, Maria will likely spin and twirl and churn north, according to Vox. That means, if all goes well, its ultimate destination will be the open waters of the Atlantic, and not Florida.
Hurricane Irma was a Category 4 storm when it hit the Florida Keys on Sept. 10, and it unleashed storm-surge flooding, tornadoes, and extreme wind throughout the state as it traveled up the west coast and across the state, according to Business Insider. The damage was so extensive that some schools in the Keys may not reopen until October, but Disney World was spared the worst. By Sept. 14, TIME had reported that Walt Disney World, Epcot, Animal Kingdom, and Disney's Hollywood Studio had resumed their normal hours, and that Disney's Blizzard Beach Water Park had reopened after closing for Irma.
Still, Disney World wasn't totally unscathed. TIME also reported that the two popular Fort Wilderness attractions Hoop Dee Doo Musical Review and Mickey's Backyard BBQ would be cancelled through Sept. 19. A handful of other attractions were "temporarily closed" as of Sept. 14, as well.
So, it's certainly welcome news for anyone with any connection or proximity to Disney World that Maria will be kinder to the area than Irma was. To that end, storm watchers in the United States should keep an eye on the havoc that Maria has and will continue to wreak on our neighbors — and identify ways to help those who were not so fortunate as Disney World this time around.
Follow this link for ideas for assisting those in need — it's always a good idea to donate to relief organizations like the Red Cross, UNICEF, Save the Children, and SPCA International. Donating blood can also hugely benefit — and even save the lives of — those who were injured.
And once everybody's taken care of, it just may be time to take a trip to Disney World.
Watch Romper's new video series, Romper's Doula Diaries:
Check out the entire Romper's Doula Diaries series and other videos on Facebook and the Bustle app across Apple TV, Roku, and Amazon Fire TV.