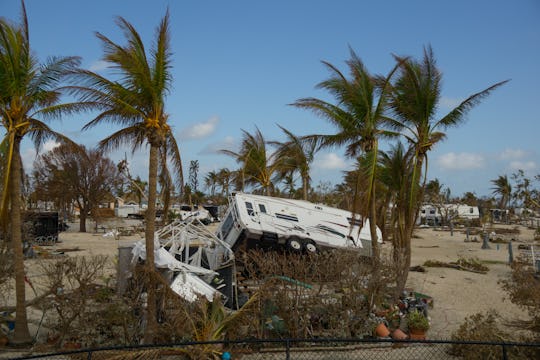 Angel Valentin/Getty Images News/Getty Images
Will Hurricane Maria Also Hit Florida?
Many Florida residents were just starting to take stock of the damage from Hurricane Irma when news broke that a new hurricane, Maria, was intensifying. For embattled Floridians, it's extremely scary that a new storm could sweep in and wipe away the tenuous recovery they've been making. But will Hurricane Maria hit Florida? As of right now, it looks like the storm isn't likely to cause much damage to that particular region, but that could definitely change. And even if Florida gets a pass this time, Maria could still be extremely harmful in other areas previously devastated by Irma.
As of Monday afternoon, Maria had reportedly turned into a Category 4 hurricane, causing people to worry that they might have to evacuate again. Still, Maria Torres, a forecaster for the National Weather Service in Miami, told Newsweek that, when it came to Maria's likely impact on Florida, "we're liking what we've been seeing." She went on to explain:
Right now, the latest tracks keep the storm east of Florida, so we might not be directly impacted like we were with Irma... We could definitely see higher surf and some rip currents along the [east] coast, but it's really difficult to say because we won't know until it gets closer.
On the other hand, AccuWeather meteorologist Dave Samuhel told USA Today that, while there was certainly a chance that the hurricane would bypass the Sunshine State entirely, "Unfortunately it looks like a blocking high-pressure system could force it into Florida," and that forecasters were monitoring Hurricane Maria's progress closely.
The National Hurricane Center's public advisory for Hurricane Maria does not yet include Florida in the list of areas likely to be badly affected by the storm, which has maximum sustained winds of 130 mph. That dubious distinction goes to areas like Puerto Rico and the Caribbean, which are bracing for another crushing blow after Irma's damage. Many in Puerto Rico are still without power thanks to Irma, and the island declared a state of emergency on Monday, even activating the National Guard in order to best prepare for the storm. And in the Virgin Islands, residents are being urged to evacuate and head to shelters for safety.
While there's no proof yet that Floridians have much to worry about, if Americans have learned anything about hurricanes over the past few weeks, it's that these kinds of storms can be wildly unpredictable. Even over the course of one day, Maria intensified from a Category 1 to a Category 4, according to CNN. Florida residents should absolutely be keeping an eye on the news over the next few days to see how the storm is developing, and how best they can prepare for it, whether that means evacuating again, or merely stocking up on emergency supplies like bottled water.
After all, Irma served as a stark reminder of the damage that these kinds of storms can cause. Over a million people lost power in Florida, while homes and other property were destroyed in great swaths. The state's official death count due to Irma was reported as 34 by The Tampa Bay Times, with that number likely to rise.
If you're thinking that this hurricane season seems a lot more intense and terrifying than in years past, you're not alone. Scientists are generally agreeing that climate change is intensifying the effects of hurricanes like Irma and Harvey, and these storms are only likely to get more destructive from here on out — especially if people don't do more to fight the effects of climate change. It's very possible that Maria won't even be the last big storm this season.
But one storm at a time. For now, Florida residents should stay on their toes, and do everything in their power to stay safe.
Watch Romper's new video series, Romper's Doula Diaries:
Check out the entire Romper's Doula Diaries series and other videos on Facebook and the Bustle app across Apple TV, Roku, and Amazon Fire TV.