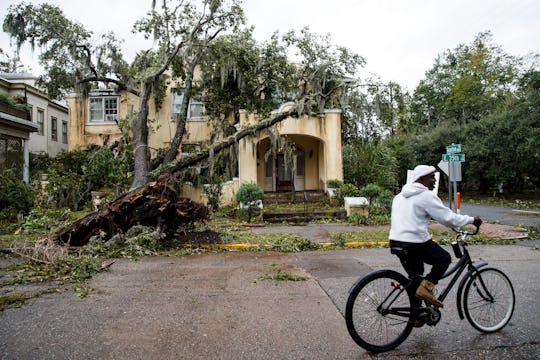 Drew Angerer/Getty Images News/Getty Images
Will Hurricane Maria Hit Georgia? Here's What We Know
The unprecedented spate of hurricanes and tropical storms coming out of the Caribbean has become difficult to keep up with, and it seems like every time one dissipates, two more take over. As the latest storm makes its way north, those on the U.S. mainland are wondering where it's headed next. Will Hurricane Maria hit Georgia, a state still reeling from the effects of Hurricane Irma less than two weeks ago? The good news is that it looks like the state won't suffer any further damage, at least for the time being. According to USA Today, as Maria travels north, it's also predicted to move away from the East Coast.
Tropical Storm Jose, which is now at sea in southern New England, could actually help keep Maria away, much like how Irma pushed Jose away from the coast. Jose weakened a ridge of high pressure, meteorologists said, which created an opening for Maria in between two systems. Maria is now expected to follow a path similar to Jose's, rather than Irma's. The worst the U.S. mainland can expect is thought to be little more than storm surges and rain on North Carolina's Outer Banks and eventually New England, but that wouldn't be for days.
The National Hurricane Center's "cone of uncertainty," the wide track forecasting the outer limits of Jose's range, shows the storm staying far clear of the United States; the closest it's expected to get is about 150 miles east of North Carolina on Tuesday. Spaghetti models also predict that Jose will give the mainland a wide birth as it travels northeast and finally dissipates at sea. There is a 5 to 10 percent chance that North Carolina's coast could see some tropical storm force winds, according to the National Oceanic and Atmospheric Administration, but that forecast could change in the coming days.
This is welcome news for Georgia, which is still in recovery mode following Irma, which brought with it Atlanta's first-ever tropical storm warning. According to The Weather Channel, Irma rendered two bridges in Savannah and Brunswick impassable, three Georgia residents were killed by falling tree branches, and more than 1.2 million were left without power following the storm. FEMA Disaster Survivor Assistance teams began canvassing coastal Georgia neighborhoods on Thursday to assist residents in registering for federal aid, according to the Savannah Morning News.
Although the mainland appears to be safe from Jose's wrath, the United States wasn't spared completely; the hurricane passed over Puerto Rico on Wednesday as a Category 3 storm with sustained winds of 115 miles per hour, according to CNN. The storm has completely knocked out the power for the island's 3.4 million people, and Puerto Rico Electric Power Authority officials estimate that it won't be back up and running for four to six months. It will continue to rain in the mountains on Thursday, which is expected to cause flash flooding in lower-lying areas. The entire island remains under flash flood warning.
Puerto Rico's recovery will be hampered due to a crippled economy; the territory has been in a recession for 11 years, and is in debt for $74 billion. The unemployment rate is more than 10 percent, and residents are leaving the island in droves as they search for better opportunities on the mainland. However, there is something of a silver lining to Jose's impact. According to CNN, Puerto Rico's roads and bridges were already badly in need of repair, and the storm's destruction has left the infrastructure with something of a clean slate. Repairing and rebuilding the roads and buildings will also create jobs, albeit temporarily. At least something good, however fleeting, has come out of these storms.
Watch Romper's new video series, Romper's DoulaDiaries:
Check out the entire Romper's Doula Diaries series and other videos on Facebook and the Bustle app across Apple TV, Roku, and Amazon Fire TV.