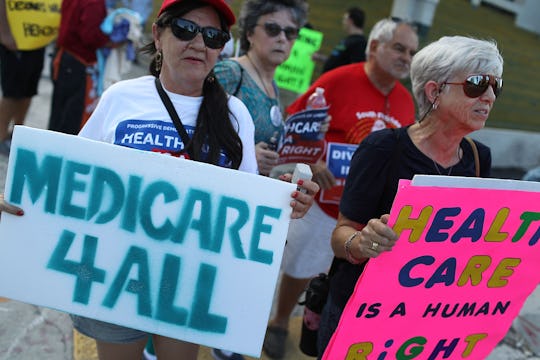 Joe Raedle/Getty Images News/Getty Images
Will I Lose My Health Care If The ACA Is Repealed?
2017 has been a whirlwind of a year in the nation's capitol. A new president moved into the White House, Republicans gained control of the House of Representatives and the Senate, and nothing has really gone smoothly since then. Lawmakers have been working to repeal and replace the Affordable Care Act — or "Obamacare" — for months now, to no avail. With all that's been going on, it's been pretty confusing to keep up. Because of that, many across the country have all been asking one extremely important question: will I lose my health care if the ACA is eventually repealed, or am I in the clear?
For now, the Senate has only voted on a motion to proceed — in other words, to take the debate to the Senate floor in an official capacity. However, that doesn't mean that Tuesday's vote is any less important; The question of whether or not to move forward and actually repeal the ACA is still a critical issue. And politics aside, it's a morally difficult question for both sides of the aisle — or at least it appears that way.
Even before President Donald Trump was elected, Republicans were yearning to replace or kill the existing health care legislation. The ACA — which has been hailed for bringing health coverage to millions of Americans who previously couldn't afford it — has also been pretty controversial. And now, Senate Republicans are getting their chance to overturn it.
The vote on Tuesday, which was passed after Vice President Mike Pence broke a tie, means that the Senate will now move forward with 20 hours of floor debate before voting to repeal or replace the ACA altogether.
Technically, health care for Americans will remain intact — for now. Of course, that could all change if senators vote on the actual bill itself. However, as CNN noted,
The next step is floor debate on the legislation to overhaul the Affordable Care Act even though there aren't any guarantees the votes are there to eventually pass it -- and it's unclear what a final bill will look like.
In short, here are some possible outcomes over the coming days, as Vox neatly points out:
"Skinny repeal," the new proposal, which would get rid of the individual mandate along with a few other unpopular provisions
A full repeal of Obamacare's spending and health insurance coverage expansion with no replacement (the Obamacare Repeal Reconciliation Act, or ORRA for short)
A repeal-and-replace plan that senators have been working on for months (the Better Care Reconciliation Act, or BCRA)
In other words, for now, nothing will immediately change in the health insurance that many Americans receive. However, depending on what bill, if any, Republicans bring to the floor to debate next, many may not be able to afford their health care in the near future. And if new legislation mirrors any of the previous health care replacement attempts by the GOP, as the Congressional Budget Office noted, 32 million Americans would be uninsured by 2026 under the Republican plan. And that's not nothing.