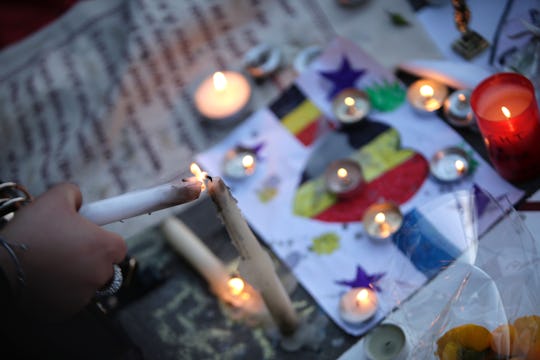 KENZO TRIBOUILLARD/AFP/Getty Images
Will ISIS Attack Europe Again? They've Trained Over 400 Fighters
After the November attacks in Paris and this week's attacks in Brussels, the question on most everyone's mind is whether ISIS will attack Europe again. Unfortunately, it looks like the terrorist group is definitely planning more attacks since it claimed responsibility for the explosions at Brussels' Zaventem Airport and the Maelbeek metro station on Tuesday. In an alarming development on Wednesday, both European and Iraqi intelligence officers claimed to the Associated Press that the Islamic State had reportedly trained and sent up to 400 "fighters" to Europe in the wake of the most recent violence, in order to "find the right time, place, and method" to carry out more missions.
The news that ISIS has dispatched fighters to plan attacks in the West, specifically Europe, coincides with the assumption that Tuesday's attack in Brussels was carried out either in spite of, or because of, the arrest of Salah Abdeslam, the last alleged suspect to be captured after the Paris attacks this fall. (Belgian and international authorities believe that Abdeslam was part of the same cell that carried out the attacks at the Zaventem airport and Maelbeek metro station in Brussels this week.) According to those investigators, Abdeslam's alleged co-conspirators may have believed their time was running out and launched the attacks out of fear that Abdeslam was cooperating with authorities.
Belgian authorities havesince identified two of the reported suicide bombers, brothers Khalid el-Bakraoui and Ibrahim el-Bakraoui, who died in the airport and metro station attack, respectively. Najim Laachraoui has been identified as a second suicide bomber in the airport, according to international security officers. Laachraoui's DNA has been found on two suicide belts connected to the November Paris attacks and he has previously used an alias that connects him directly to Abdeslam, according to CNBC.
Michael Weiss, an editor at The Daily Beast and co-author of the book, ISIS: Inside the Army of Terror, reported on Wednesday that these sort of semiautonomous and sporadic attacks fall in line with the terrorist group's overall mission. It also makes it extremely hard to predict when and how attacks will happen. According to Weiss, Belgian authorities have been at a loss to successfully infiltrate terrorist cells in Brussels and keep up with security.
Just think: Abdeslam was apprehended two blocks away from his childhood home in the Molenbeek neighborhood of Brussels after a months-long manhunt and likely being aided by numerous contacts. How do you stop that? Despite Belgian authorities' best efforts, Weiss said in a WNYC radio interview on Wednesday, it's been hard to gather intelligence, nurture reliable sources, or embed themselves in certain communities.
In dispatching more fighters to Europe and authorizing those men to carry out attacks as they see fit, it's all the more difficult to ramp up security in any productive way. The ISIS fighters are prepared and authorized to improvise violence. According to The Guardian, it's not about revenge, but to show that they can "mobilize and terrorize," whenever they see fit.
The best action that European and American security officials can take, it seems, is to communicate with each other about their intelligence and stay vigilant. Immigration bans or declaring "war" on dispersed ISIS fighters probably isn't the answer. If nothing else, at least we now know what's coming.