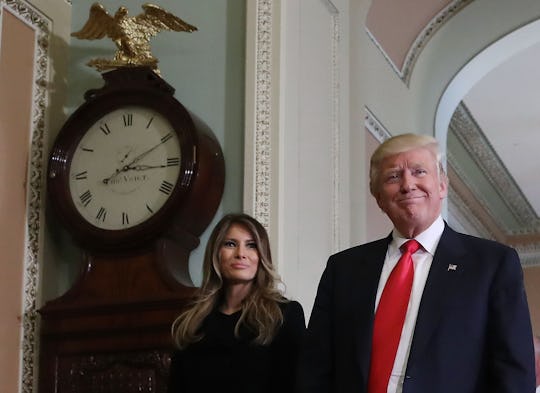 Mark Wilson/Getty Images News/Getty Images
Will It Cost Taxpayers More If Melania Trump Doesn't Live In The White House?
On Sunday, The New York Post revealed that America's soon-to-be next First Lady — Melania Trump — will not immediately move into the White House when her husband, President-elect Donald Trump, takes office in January. The 46-year-old mother will remain at Trump Tower in Manhattan with their 10-year-old son, Barron — at least until he finishes out his fourth grade school year at Columbia Grammar and Preparatory School. Will it cost taxpayers more if Melania Trump doesn't live in the White House? While the answer isn't entirely clear, it will certainly make life for New Yorkers exceptionally difficult come next year.
Melania is very close with her son Barron. She is a fiercely proud, loyal, and hands-on mom, often seen picking up Barron from school during the week; both she and her husband claim they've never used nannies to raise their son. Washington insiders have been speculating where the 10-year-old boy would attend school once his father takes office — it would seem that now, the Trump family has a little more time to decide on a school for Barron. Still, there are genuine logistical nightmares ahead as Melania and Barron remain in New York while Trump is in D.C. — and many Americans are wondering what that bottom line will look like for them.
Trump Tower — a 58-story building that houses everything from the GUCCI flagship store to Bruce Willis, as well as the president-elect's family — is located at 721 Fifth Avenue, right smack in the middle of midtown Manhattan. If you're not familiar with the Big Apple, Fifth Avenue may as well be the commercial main street of the city: It's a huge, heavily-used thoroughfare.
Already, New Yorkers have experienced plenty of traffic woes since Election Day as the streets near Trump Tower have been cordoned off by the Secret Service and the New York Police Department. Last week, New York City Mayor Bill DiBlasio addressed his constituents' concerns at a press conference outside of Trump Tower, saying, "I will not tell you that Gucci and Tiffany are my central concerns in life, but I will say the traffic situation is a very real problem."
Both Melania and Barron will need Secret Service protection — and not just at their home, but at Barron's school as well — and anywhere else they might go. In 2008, Secret Service Director Mark Sullivan told the House Homeland Security Committee and House Appropriations Subcommittee on Homeland Security that it costs approximately $38,000 a day to protect presidential candidates, and that he anticipated that cost to rise. It's true that American tax dollars do go towards the Secret Service, but there's no way to tell exactly how much of your tax bill actually funds the agency under the Department of Homeland Security.
Even though Americans might not directly feel the cost of a split presidential family in their wallets, New Yorkers are certainly feeling it every day they have to go near Trump Tower — and it looks like those traffic headaches won't be ending anytime soon.