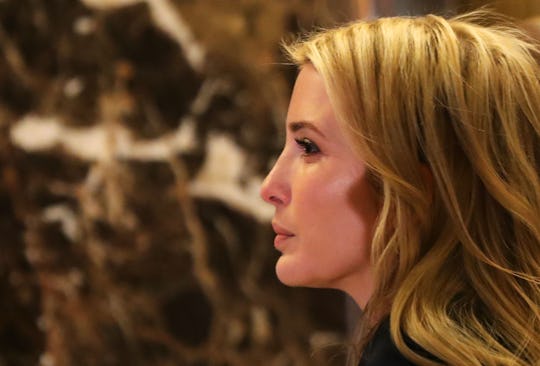 Spencer Platt/Getty Images News/Getty Images
Will Ivanka Get An Office In The White House? The Allegation Sparks More Concerns
As the world watches President-elect Donald Trump transition to take office come January, news about his Cabinet appointments, meetings, and his tweets, of course, continue to spark interest and concern for many. One concerning angle about his presidency is the role his family members will potentially have in his administration. Particularly, recent meetings involving his daughter Ivanka Trump and her husband Jared Kushner have raised quite a few brows. And this week, more reports on Ivanka's potential role in the White House have come out — specifically, that Ivanka might even get her own office in the White House. The allegation from CNN has prompted more questions about nepotism laws and breaches of protocol as it relates to Trump's transition.
Hope Hicks, a spokesperson for Trump, responded to a request from Romper regarding reports that Ivanka Trump could possibly have an office space in the White House. "This report is false," Hicks said in an email to Romper.
According to a CNN report on Thursday, there have been talks surrounding a possible forthcoming "Office of the First Family" in the White House's East Wing, where Ivanka could allegedly have an important spot. According to Jezebel, the idea that Ivanka could get an office resulted from the fact that Melania will not use her's since she's not moving to D.C. with Trump. But Hicks, Trump's spokesperson, dismissed that report, telling CNN that no decisions concerning Ivanka have been made.
While Trump's team appears to dismiss reports that Ivanka will have her own office in the White House — or at least that her involvement has not been decided yet — Ivanka and Kushner's recent meetings have fueled speculation about their future roles.
As The New York Times reported last month, photographs revealed that Ivanka was present, at a meeting with Trump and Japan's Prime Minister Shinzo Abe. And earlier this month, Ivanka met with former Vice President Al Gore to discuss climate change, prior to Gore's meeting with Trump himself. "I had a meeting beforehand with Ivanka Trump," Gore said of the meeting, according to The Washington Post. "The bulk of the time was with the president-elect, Donald Trump. I found it an extremely interesting conversation, and to be continued, and I'm just going to leave it at that."
What's more, speculation concerning Ivanka and Kushner's future involvement has also been fueled by Melania Trump's decision to not move to the White House until the youngest Trump, Barron, finishes his school year. Then, news broke that Ivanka and Kushner plan to move to D.C instead.
Kushner, who served as a top advisor in Trump's campaign, has reportedly consulted with a lawyer regarding future potential roles and nepotism rules, according to a report by The New York Times. The transition team did not respond to requests for comment regarding Kushner's alleged meeting.
But an anti-nepotism law will certainly affect potential roles for Trump's family. As NPR reported, Congress passed an anti-nepotism law in 1967 that prohibits a "public official" from appointing any relative. As NPR cited the statute reads:
A public official may not appoint, employ, promote, advance, or advocate for appointment, employment, promotion, or advancement, in or to a civilian position in the agency in which he is serving or over which he exercises jurisdiction or control any individual who is a relative of the public official.
Only time will tell how Trump will handle his appointments and his family's involvement in his presidency.