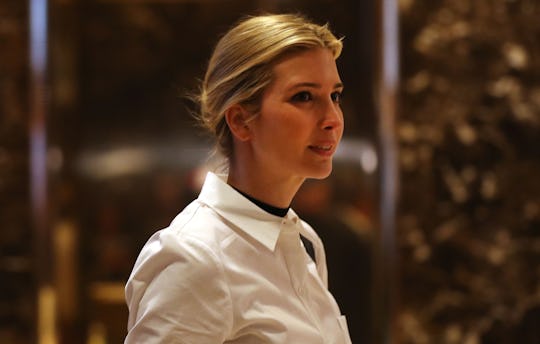 Spencer Platt/Getty Images News/Getty Images
Why Ivanka Trump Should Be Acting First Lady
It's long been speculated that Ivanka Trump, the eldest daughter of President-elect Donald Trump, will have some sort of role, be it official or unofficial, in her father's administration. On Wednesday afternoon, she announced via Facebook that she'd be stepping down from her positions at both the Trump Organization and her own company, and now more than ever, the world is pondering, will Ivanka Trump be acting first lady? Although there still has been no formal announcement, it seems it's all but a done deal. Trump's transition team hasn't responded to Romper's request for comment on the matter.
The role of first lady is an unpaid, unofficial one, and there is historical precedent for someone other than the president's spouse taking on the job. According to Politico, Thomas Jefferson and Martin Van Buren, both widowers, enlisted the help of their daughter and daughter-in-law, respectively, and bachelor James Buchanan called upon his niece, who was also his ward. True, none had a wife, as Trump does, but Eleanor Roosevelt, wife of Franklin and proto-Hillary Clinton, also declined decorating and party-hosting duties in favor of more serious political work. While Melania Trump is temporarily staying in New York so that her son, Barron, can finish out the school year, the role of a mother is still arguably more important than picking out drapes and hosting luncheons.
Amid the news that Ivanka's husband, Jared Kushner, will serve as a senior advisor to his father-in-law, she posted on Facebook that she's appointed Abigail Klem to head her apparel brand while her brothers take over the Trump Organization. "My husband, Jared, and I will be moving with our family to Washington, D.C.," she wrote, and she will "take time to settle our three young children into their new home and schools." Although she didn't acknowledge an official White House role for herself, she did mention that she'll be looking at "the most impactful and appropriate ways for me to serve our country."
The role of first lady would be a perfect way for Ivanka to skirt the Federal Anti-Nepotism Statute, as it's an extremely powerful position, yet it's not technically a real job. The Washington Post's Alyssa Rosenberg, who's no Ivanka apologist, argues that she's the person best-suited for the role, because unlike her stepmother, she's actually interested in it. When you really think about it, forcing a woman into an unpaid job just because of who she's married to is deeply sexist; this might be the one almost-feminist move of the Trump administration, which is expected to be strongly anti-woman. Finally, while the first lady certainly has the president's ear, it's obvious that Ivanka already will, regardless of what she calls herself or where her office is. Wouldn't it be best to keep her front and center, where we can all see exactly what she's up to?