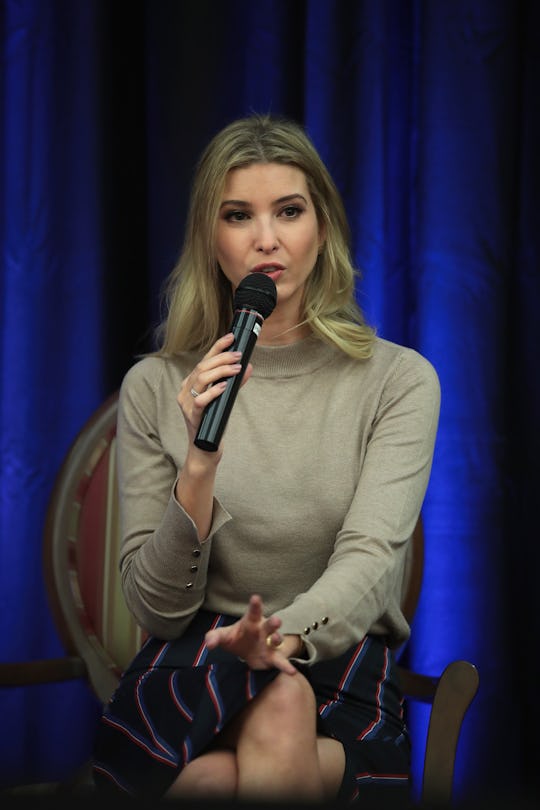 Scott Olson/Getty Images News/Getty Images
Will Ivanka Trump Lobby For Paid Leave? It's Been Her Signature Issue
As the days until President-elect Donald Trump's inauguration count down, it's starting to look increasingly likely his daughter, Ivanka Trump will have a substantive role in the Trump administration. Her signature policy issue up to this point has been trying to make life a little easier for working moms in America. So will Ivanka Trump lobby for paid leave? It looks like she's already getting started.
Her title might not yet be official, but, according to a report from CNN, Ivanka has already started making phone calls to members of Congress about passing reforms including child care tax cuts. This, along with paid maternity leave, were issues Trump said during the campaign, he would fight for with the help of his daughter. Romper reached out to the Trump transition team for comment, but has not yet received a response.
"For many families in our country, child care is now the single largest expense -- even more than housing," Trump said, according to CNN. "Our plan will bring relief to working and middle class families."
Trump talked about policies during the campaign, which he said were influenced by his daughter, including six weeks of paid leave, which the Washington Post pointed out runs counter to the Republican establishment's position on the issue, which views maternity leave mandates on business as government overreach.
But despite Ivanka becoming her father's most visible advocate for paid leave, her past behavior indicates a less enthusiastic attitude toward helping the women who have worked for her families' businesses.
In a now famous and revealing interview on the issue of paid leave with Cosmopolitan, Ivanka was asked to respond to criticisms that her paid leave policies wouldn't apply to same-sex parents, and why she thought her father called pregnancy an "inconvenient" thing for business in a 2004 interview. When questioned about her father's previous comments her response was pretty defensive:
So I think that you have a lot of negativity in these questions, and I think my father has put forth a very comprehensive and really revolutionary plan to deal with a lot of issues. So I don't know how useful it is to spend too much time with you on this if you're going to make a comment like that.
But those aren't the only questions she'll have to answer if she wants to continue to be the face of paid leave (for all parents of all genders) for the Trump White House.
She misstated the facts about the Trump Organization's policies on paid leave and child care, according to FactCheck.org. And, according to a Facebook post from Marisa Velez Kraxberger, who worked on the launch of Ivanka Trump's #WomenWhoWork campaign, her own employees had to fight for paid leave. Kraxberger wrote, according to Slate.
When I first interviewed with Ivanka I was 2 months pregnant, she called to offer me a job, which I was at the time very excited about, and when I asked about maternity leave she said she would have to think about it, that at Trump they don't offer maternity leave and that she went back to work just a week after having her first child. I somehow was dumb enough to accept the job after agreeing upon having the discussion further down the road about how we would handle the time after my baby was born. Our team—the ones who created #WomenWhoWork and the ones who the hashtag really stood for—fought long and hard to get her to finally agree to 8 weeks paid maternity leave.
Romper requested comment from Ivanka Trump's clothing brand regarding it's paid leave policy change and has not received a response.
So while Ivanka is going to need to get comfortable explaining her change of heart on the issue of paid leave, she deserves credit for championing policies that could actually improve the lives of women in America, who could use a powerful voice on their side in the White House. Only time will tell if she'll be able to achieve any meaningful reforms.