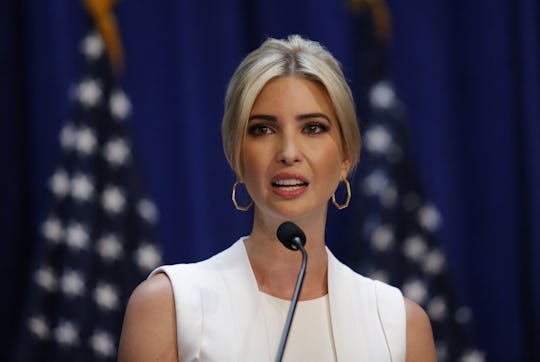 KENA BETANCUR/AFP/Getty Images
Will Ivanka Trump Run For President In 2020? It's Not That Far-Fetched
America has made its bed, and it is now getting ready to lie in it for a long, tumultuous four years. But when the prospect of what's to come becomes too much to bear, some are looking forward to 2020 and wondering who might replace President-elect Donald Trump. Some are speculating that his eldest daughter, considered by many to be the brains of the operation, might take over. Will Ivanka Trump run for president in 2020? It seems ridiculous, but then, so did her father's candidacy, and look what happened. Truly, anything is possible.
Although it looks like we're not getting out of a Donald Trump presidency, many believe that it won't last more than one term; White House Press Secretary Josh Earnest recently revealed that President Obama still stands by his assertion that Donald is wholly unqualified for the position, according to The Week, and it's hard to argue with that assessment, given that CNBC recently reported that he was unaware that he'd actually have to hire his own staff, and now, rather than getting the two months of DGAF Obama that we all deserve, the president will reportedly spend his last days in office patiently training his replacement on the basics of the job, according to the Wall Street Journal.
So why not Ivanka in 2020? She's certainly an improvement on her father. She's a cum laude graduate of the University of Pennsylvania's Wharton School, an eloquent speaker, and although she claims to subscribe to many of the same philosophies as her dad, she wasn't even raised by him, by all accounts, so she's far from an exact copy. Plus, she's a woman, so her constituents won't need to educate her about periods like they do with Vice President-elect Mike Pence, and she's Jewish, so she probably won't appoint an anti-Semite as her chief advisor.
Ivanka recently told 60 Minutes' Lesley Stahl that she won't officially be joining her father's administration, but sources have told CBS News that he is seeking top-secret security clearance for her and her brothers. When asked by Cosmopolitan in March whether she'd ever consider running for office, Ivanka refused to rule it out. But could she beat possible Democratic opponents like Massachusetts Sen. Elizabeth Warren, New York Sen. Kirsten Gillibrand, or New Jersey Sen. Cory Booker? If I'd been asked that question a month ago, I would have laughed until my stomach ached. Now? Not so much.