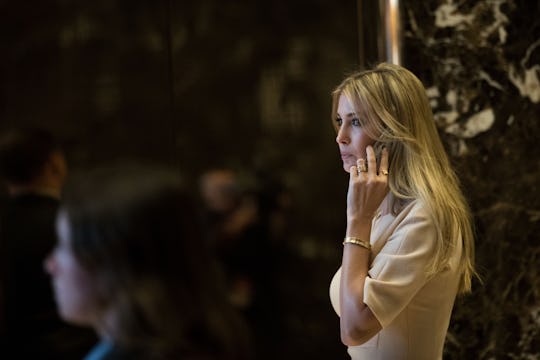 Drew Angerer/Getty Images News/Getty Images
Will Ivanka Trump Sit In On Intelligence Briefings? Probably Not, But Anything's Possible
President-elect Donald Trump has been putting together his cabinet over the last few weeks, and many are wondering if any of his family members will be included. It looks like his wife and son will stay in New York City at Trump Tower, but his daughter Ivanka has been involved in some of his most important meetings. Will Ivanka Trump sit in on intelligence briefings? Probably not, but under a Trump presidency it's looking like anything will be possible.
After news broke that Melania and Barron won't be joining Trump at the White House, people started speculating that Ivanka would join her father in Washington and take on some kind of political role. Snopes investigated the claim that Ivanka was going to be in the White House with her father, and found that it came from a humor website called Nevada County Scooper — but given some of the headlines relating to Trump that we've had in 2016, it's easy to see why people believed it.
A real-life story about Ivanka's involvement in her father's politics really got people thinking about just what kind of role she'd have in her father's administration: When Trump met with Japanese Prime Minister a couple of weeks ago, Ivanka was in attendance. This raised many questions about not just Trump's conflicts of interest, but his family's; Ivanka, after all, also owns a business of her own within the Trump empire.
A source close to the Trump family told the New York Times that Trump has "always encouraged Ivanka and his children to attend meetings with him," and since most of these meetings are happening at Trump Tower, it would be fairly easy for his family to drop by if they felt so inclined. A request for comment to Trump regarding the statement was not immediately returned.
Whether it's appropriate, however, raises a bunch of pertinent questions as Trump's inauguration fast approaches: particularly in the case of meeting with members of his team and foreign leaders, it's reasonable to assume that some sensitive, classified information would be revealed in these meetings. Is it really a good idea to have more people in the room than absolutely necessary?
Ivanka has said that she does have some interests politically: most recently, climate change — which is interesting because her father denies it exists (although he recently agreed to have an open mind on the subject). But is Ivanka also interested in matters of national security of foreign policy? Back in August, she raised eyebrows when she sat in on a meeting with her father and several of his advisors to discuss national security. Trump actually posted a picture of those in attendance, with Ivanka clearly visible at the table. According to The Daily Mail, it was just a few hours after that meeting that Trump received his first classified intelligence briefing. A U.S. intelligence official informed the The Daily Mail that, generally speaking, anyone attending such meetings would need appropriate security clearance.
While Trump has said that he didn't intend to give such clearance to his children, once he becomes president he'll certainly have the power to change his mind. And besides, as long as no one on his staff is using an unsecured email server, what's the worst that could happen?