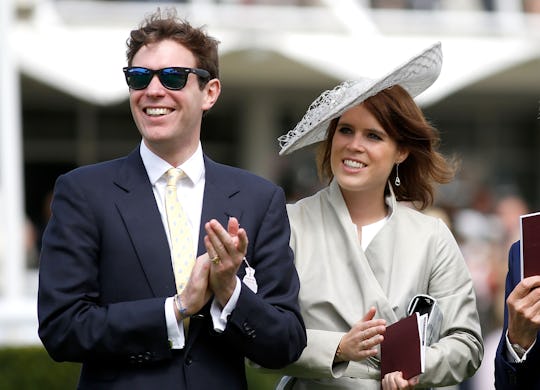 Tristan Fewings/Getty Images Entertainment/Getty Images
Why Princess Eugenie's Husband-To-Be Jack Brooksbank Probably Won't Get A Royal Title
Get ready for another royal wedding full of pomp, circumstance, and of course, those over-the-top English hats! Princess Eugenie's marriage to Jack Brooksbank is just a few days away. The wedding is slated to take place this Friday, Oct. 12, at St. George's Chapel at Windsor Castle, according to The Telegraph. But, ahead of the big day, royal fans might be wondering whether Jack Brooksbank will have a royal title when he and Princess Eugenie tie the knot.
The official answer is not likely — Brooksbank will probably not a be duke, an earl, or even a baron. Brooksbank will not have a royal title and will remain a member of the general public, according to The Sun. But there's a good reason for this. Princess Eugenie is not as close to the line of succession as Prince Harry, she doesn't perform royal duties for the queen, and she doesn't need permission from the queen to marry, according to The Sun.
Secondly, Brooksbank is not of royal lineage and does not have any titles to his name, currently, according to The Telegraph. However, he is a successful wine merchant and the U.K. brands ambassador for George Clooney's tequila brand Casamigos, according to the Standard. Anyways, together the couple will have a net worth of $4.7 million, according to E! News. So, who really cares about the titles, right?
However, there is one person who will be changing their name after the vows are said. Princess Eugenie, will be known as Her Royal Highness Princess Eugenie Mrs. Jack Brooksbank, according to The Sun. That's quite a mouthful, so let's see if she actually gets around to using her new moniker.
If Brooksbank ultimately doesn't get a title, it'll be interesting. When Meghan Markle married Prince Harry in May of this year, she was given the title Duchess of Sussex, according to TIME. And when Kate Middleton married Prince William, she was named Duchess of Cambridge. But that is because Prince William and Prince Harry are second and sixth in line for the throne, respectively, according to Town & Country. Prince Harry was third in line to the thrown, but with the birth of Prince William's three children, he was pushed farther down the line. Princess Eugenie is ninth in line for the thrown, according to Newsweek.
Back in 2016, according to the Daily Mail, there was a rumor that Prince Andrew, Princess Eugenie's father and the Duke of York, wanted his daughters' future fiances to garner an earldom from the Queen, so that their union would be royal and their children would not be commoners. Yikes. He denied these claims, according to a report from the Daily Mail.
In fact, the rumors got so out of control that Prince Andrew had to make a formal comment about the subject. In a letter to the public from the office of Buckingham Palace he said: "It is a complete fabrication to suggest I have asked for any future husbands of the Princesses to have titles."
Royal titles can be very confusing, because there are so many factors involved before one can even be bestowed. As for Princess Eugenie and Brooksbank's future children, royal groupies will have to wait and see if the babies will have any official title once born. Cheers to this week's wedding and congrats to the couple (with or without the royal titles)!