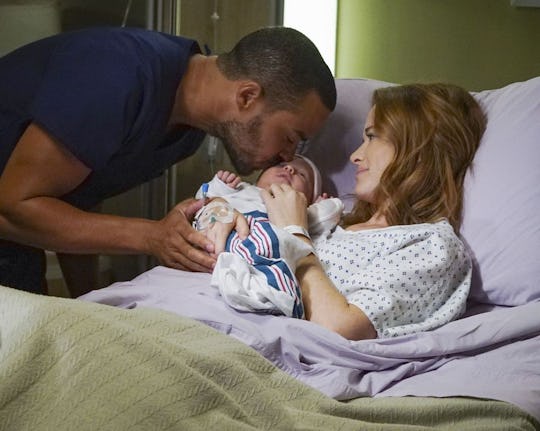 Eric McCandless/ABC
Will Jackson & April Get Back Together On 'Grey's Anatomy'? Fans Are Rooting For Them
On Grey's Anatomy, relationships don't always last but sometimes just when it seems like a relationship has bit the dust they're given another chance. That may just be the case with Jackson and April. When April first discovered she was pregnant she was in the middle of getting a divorce from Jackson. Rather than tell him the truth and risk him staying with her only because of the baby, April decided to keep it a secret and they went through with the divorce. However, now that their daughter, Harriet, is in the world, April and Jackson seem to be getting along much better now. So will Jackson and April get back together on Grey's Anatomy? There's a pretty good chance (and fans are definitely rooting for them).
April's delivery of Harriet wasn't conventional. Ben had to give her an emergency C-section in a kitchen, and although it all worked out in the end, it left April scarred and unable to take care of Harriet on her own. Naturally, Jackson stepped up and offered to let her and Harriet stay at his house until she could get back on her feet. Although April tried to say no at first she eventually ended up giving in. Of course, living with your ex isn't always easy (there's a reason they broke up after all) and it led to some complications.
April was trying to hard to be the perfect guest in Jackson's home while Jackson didn't know how to tell April that she was doing too much. Additionally, the two couldn't agree on a system that would let them alternate their sleeping patterns so one of them could rest while the other took care of Harriet. This led to a lack of sleep for both of them, only worsening their situation. Ben suggested Jackson talk to April about the situation while Arizona let know April know she was now ready to live on her own.
When Jackson came home he and April did have that talk but turned more into an argument that ended with April suggesting she move out. However, both April and Jackson quickly agreed that they didn't want April to move out and that instead they would figure out how to co-habitat, at least for now. Although neither of them said it it seems obvious that these two don't want to continue living together just for the sake of Harriet. It seems they don't want to let each other go despite the fact that they're divorced.
Living together while raising a child together is the perfect atmosphere for feelings to resurface. No doubt before this season is done April and Jackson will at least hook-up and maybe even get back together. There may just be hope for "Japril" yet.