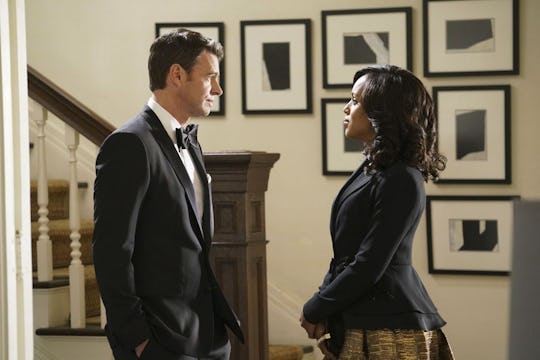 Adam Taylor/ABC
Will Jake & Olivia Get Back Together On 'Scandal'? They Could Stand In The Sun Again
For the past few seasons of Scandal, Olivia has had an up and down love life that involved two main players: President Fitzgerald Grant III and Captain Jake Ballard (who's real name isn't even Jake, apparently). After Olivia's short stint in the White House and almost marriage to Fitz, it seems the "Olitz" ship may be officially over. However, just when fans of Team Jake thought they may have a victory, Olivia's father, Rowan, pulled the rug out from under Olivia and warned her that if she did anything to stop Jake's wedding to golden girl, Vanessa, Jake would die. But will Jake and Olivia get back together on Scandal? Is that even an option?
Even though Olivia clearly loves Jake and was ready to stand in the sun with him once again, she broke his heart into pieces, telling him to marry Vanessa and forget about her. In one of the most heartbreaking scenes of the show, Olivia walked away from Jake, and although she tried to stay strong, she finally broke down to Huck, telling him the truth about what happened with Jake. Once again, Olivia's father got involved in Olivia's love life and then crushed it because he clearly doesn't want to see Olivia happy, but instead under his control.
However, the latest episode of Scandal has led many Team Jake fans to believe the there may still be a chance for the couple. After Olivia got to Edison and convinced him to throw the presidential race, Rowan and Jake paid Edison a visit. Through Edison, Jake sent Olivia a message saying he wants to get out and he's still "chasing the sun." It seems Jake didn't believe Olivia's heartbreaking speech after all. He's still very much in love with Olivia and it seems he knows she loves him, too.
But how will these to ever be able to be together with Rowan always standing in the way. Well, this is Scandal, and sometimes when there's no other options you just have to kill a man, and in this case, Rowan probably deserves it. Rowan, as Command, has done his fair share of political manipulation and murders. He's ruined the lives of so many people and there's probably no one that would be sad to see him go. Even so, killing Rowan is much easier said than done.
The last time they took Rowan down Olivia let him back out. Will Olivia have the heart to actually kill her father even if it means finally being able to be free? Although it's her only way to truly be with Jake, Olivia could still hesitate and that hesitation could lead to deadly consequences for everyone involved. We'll just have to wait and see how it'll all play out on the season finale of Scandal on May 12.