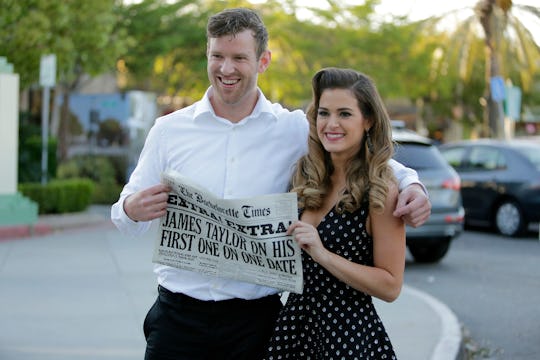 Greg Zabilski/ABC
Will James Taylor Release An Album? The 'Bachelorette' Contestant Is Planning On It
If you've been paying attention to James McCoy Taylor on The Bachelorette this season, you may have noticed his guitar skills and silky-smooth singing voice. He's led his fellow contestants in more than one group sing-along (much to the ire of Meat Chad) and his go-to romantic maneuver is to serenade our girl JoJo Fletcher with an impromptu ode now and again. He's definitely a gifted singer/song-writer, but will James Taylor release an album after The Bachelorette ends? It looks like the answer is yes.
The very adorable contestant recently revealed to Bustle that he quit his job to focus on his music, noting that all of the songs (which he writes himself) are done and all that remains is to get the album recorded. The Texas native described the album as "80 percent country" and estimated that it'll be ready within the next three months.
Appearing on The Bachelorette has certainly helped James Taylor's singing career blossom, though it doesn't seem that that was his explicit purpose for going on the show. For one thing, his interactions with JoJo seem like some of the most real on a show that doesn't typically foster genuine connections. If he was faking that enthusiasm for her and those puppy-dog eyes during their one-on-one swing dancing date, the guy might as well go for a career in acting too, because it was pretty damn convincing.
Regardless, his newfound reality TV fame as a fan-favorite of The Bachelorette 12 is giving him all kinds of music opportunities that he might not have had elsewhere. Based on his Twitter and Instagram accounts (which are only a bit over a month old), he's been gaining traction and popularity by playing live shows. During a recent interview with the Houston Chronicle, James confirmed that he was planning on leaving Atlanta when his lease was up to go on tour.
Personally, I can't wait to see a live rendition of "Chad Yourself," James Taylor's brilliant cover of Justin Bieber's "Love Yourself."
In the same interview, James revealed that he hadn't even sent in the application to appear on The Bachelorette – a friend had sent it in on his behalf as a joke. When the producers called him in to appear on the show, James, who was then working as an account manager at a pest-control company, decided to "take a leap of faith and go see what happens." James Taylor's friend, on behalf of all of us Bachelorette viewers and James T. superfans, I thank you.
If you can't wait to listen to James Taylor's album or see him on tour, you're in luck. He's already released one song called "Fairytale," and it's available on iTunes and on Soundcloud.