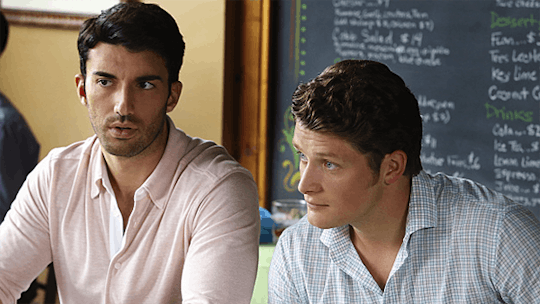 The CW
Will Jane Choose Michael Or Rafael On 'Jane The Virgin'? Twitter Is Torn
Jane the Virgin's titular heroine has had an incredibly hard time choosing between the two men in her life: super handsome baby daddy Rafael and sweet detective fiance Michael. It's a tough decision considering both men meet different needs of Jane's: Rafael provides her with a picture-perfect family, but she and Michael share a lot of history. Viewers have had an equally difficult time deciding between the two guys, and they're pretty vocal about it, too. It's hard not to choose a team when it comes to love triangles, and Jane the Virgin's audience is totally divided. Will Jane choose Michael or Rafael?
Technically, Jane has already made her choice more than once. Back in season one she followed her heart and gave Rafael a chance to see if their family could work. But when it didn't quite work out how either of them wanted, Jane followed her heart back in the other direction and got together with Michael again. As of right now, "Chapter Forty-One," they're still engaged with every intention of walking down the aisle. But this is a telenovela; romantic choices are never forever. Despite the fact that both guys could make it work with Jane, fans are incredibly torn and they're not afraid to vent their feelings on Twitter.
The Team Michael argument rests not just on their joint history, but how well they get along. Michael and Jane understand each other, and Gina Rodriguez and Brett Dier have great natural chemistry. It doesn't hurt that they chose each other without any crazy circumstances (cough cough, surprise artificial insemination) getting in the way. Theirs is a family they chose. Then again, their relationship broke apart once before due to lack of trust and wanting different things; they may be stronger now but issues don't disappear overnight.
Jane and Rafael fans are drawn to the romance and excitement of their courtship, and the fact that they come from such different worlds is a big part of the appeal. They can challenge each other and help each other to grow. Jane and Rafael are also both big proponents of family: Jane because she has a great one, and Rafael because he never had the chance to have a great one. Together they can build the family they always wanted.
Ultimately it isn't really about either of the guys. This is Jane's story and Jane's journey, so watching her figure out her life is the whole point. She may have chosen Michael now and she might change her mind later, but going along for the ride is half the fun.